Things You'll Need
Iron

Ironing Board

Newspapers

Scissors

Fabric

Cleaning cloth

Spray adhesive

Plastic surface

Cardboard box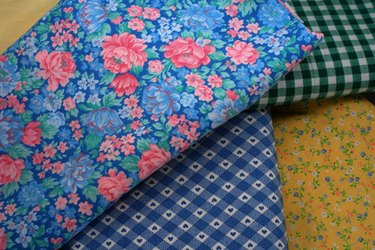 Gluing fabric to plastic is not something most people need to do very often. So when a project calls for this particular task, it's understandable if you are intimidated. To avoid a craft catastrophe, such as glue seeping through the weave in the fabric or complete adhesion failure, you need to choose your materials carefully. Spray adhesive works well for this project because it creates a strong, smooth bond between fabric and plastic.
Step 1
Iron the fabric until it is completely free of wrinkles using the iron and ironing board. Any remaining wrinkles will be visible in the final product, and they may prevent the fabric from adhering properly.
Step 2
Spread the newspapers onto a flat work surface in an area with ample ventilation.
Step 3
Cut the fabric to the appropriate size for the plastic surface you want to cover.
Step 4
Wipe off the plastic surface with the cleaning cloth to make sure it is clean and dry.
Step 5
Shake the adhesive can well before you open it.
Step 6
Check the arrow on the nozzle and the dot on the can and align them, if necessary.
Step 7
Hold the adhesive 6 to 8 inches away from the plastic surface and spray the surface evenly with the adhesive.
Step 8
Allow the adhesive to set on the plastic surface for 30 seconds.
Step 9
Align the fabric carefully over the plastic surface, and affix it to the plastic. Smooth the fabric with your hands to make sure it affixes properly without wrinkles or air bubbles.
Step 10
Continue affixing the fabric to the plastic using the same method until you cover the plastic in the way you desire.
Step 11
Hold the adhesive spray can upside down and spray it into the box until nothing more comes out of the nozzle when you finish using it. This will keep the spray can from clogging.
Tip
Decoupage glue is another option for gluing fabric to plastic. Look for a brand that specifically recommends it for this purpose.