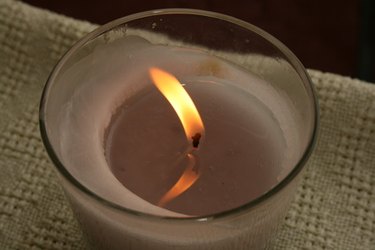 Candles add ambiance to rooms with gentle light and lovely fragrances, but you only get half of these benefits when they are unscented. You can add scent with candle-making supplies. These supplies are an excellent option because you can adjust the scent to your taste and preferences. Imagine how much more you'll appreciate the effects when you have created the candle on your own.
It is not always easy to find a scented candle that you like. Some of the nicest-looking candles out there are unscented. Fortunately, it is simple to add a scent to an unscented candle, either with fragrance oils for candle making or essential oils. Choose an unscented candle and the fragrance you like and get a toothpick, a dropper (if needed) and a lighter.
Light your candle, let it burn for approximately 30 minutes and blow it out. This process should leave about 1 inch of wax pooled around the wick. Draw some of the fragrance oil or essential oil into a dropper and add three to four drops of it into the melted wax before it hardens. You can play around with the candle-making scents by mixing different oils. If you want a stronger scent, adding more oils will do the trick.
Stir the oil into the wax with your toothpick, starting near the wick and working toward the edges. When you finish, let the oil set entirely and harden. Now, you can light the candle again and allow it to burn for several minutes. If you don't smell the fragrance or if the smell is too weak, you can repeat the steps with more oil.
Experts say that store-bought candles cannot compare to homemade versions. With the basics, you can make your own at home. You'll need candle-making supplies, like paraffin wax, good quality beeswax or soy wax for candle making. The second two are natural options. Some waxes contain additives to make them burn slower, or you can buy this separately. You will also need molds for your candles, which are available in countless shapes and sizes.
To create different-colored candles, look for dyes designed to tint melted wax. You will also need wicks, and the mold should provide details on what kind to get. Use thinner wicks on smaller candles and thicker wicks for bigger ones.
Fragrance Oils and Essential Oils
You can also use fragrance oils for candle-making and essential oils but remember that natural essential oils are the more expensive choice. Fragrance oils are generally mixed with synthetic substances to mirror the scents of essential oils.
The most popular home luxury scent is lavender, and other favorites include fir, eucalyptus, vanilla, pumpkin spice, peppermint, sandalwood and rose. These candle scents are basic and can be good starting points for beginner candle makers. Once you learn how to make your own, you can try exciting combinations, like caramel vanilla, lemon blueberry and more. Keep in mind that some people may be allergic to fragrances and essential oils, so read the package ingredients and use a light hand when adding these scents.