Things You'll Need
Water

TSP

2 Buckets or containers

3 Sponges or cloths

Bleach

Stain killing primer

Mildew resistant top coat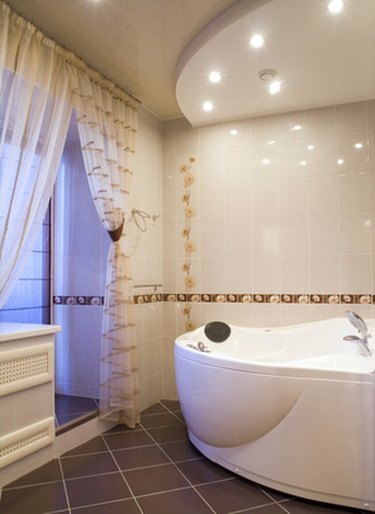 It is not uncommon to find mold growing in various areas of your bathroom. Mold requires a damp, dark and humid location to grow and thrive, which makes bathrooms the perfect breeding ground for mold and its spores. If mold is not dealt with in a timely manner, it can eat away at the item and deteriorate it beyond repair. Mold growing on your ceiling could be a sign of a ventilation problem which you should look into after the mold has been removed.
Step 1
Combine 2 cups of warm water with ¼ cup of TSP—trisodium phosphate—in a bucket or container.
Step 2
Saturate a sponge in the solution and wring out the excess mixture.
Step 3
Scrub the bathroom ceiling with the sponge. When the sponge becomes dirty, resaturate it in the solution. Continue scrubbing until all mold is gone.
Step 4
Pour undiluted bleach in a small container. Submerge a sponge or white cloth in the bleach and wring out the excess liquid.
Step 5
Wipe the bathroom ceiling with the sponge. Allow to sit for a few hours.
Step 6
Dampen a clean cloth with cool water. Rinse the bathroom ceiling with the cloth.
Tip
After the ceiling has dried, prime the bathroom ceiling with a stain killing primer and apply a mildew resistant top coat to prevent mold growth. Wear rubber gloves when working with chemicals to prevent skin irritation.