Things You'll Need
Mild detergent

Washing machine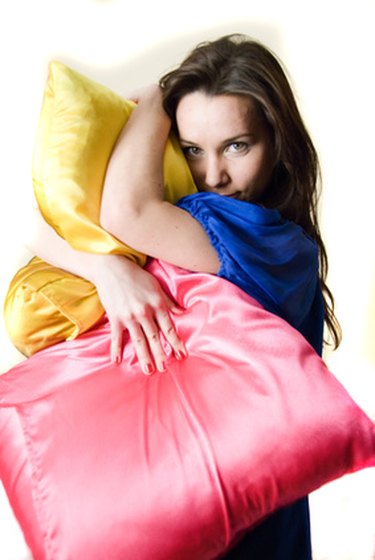 Silk is a luxurious fabric that has been popular in China since the 27th century B.C., when it was worn only by the emperor and his family. It is one of the oldest textiles available, and it is synonymous with luxury and elegance. The fabric is made from the silkworm's cocoon, and although delicate, silk is washable using the proper care and techniques.
Step 1
Place the silk pillowcases into a bag for delicate garments, and put the bag into the washing machine. Machine wash the pillowcases using the delicate cycle.
Step 2
Allow the pillowcases to air dry.
Step 3
Spot-clean silk as needed using a gentle detergent.
Tip
Check care labels and be sure to take dry-clean-only items to the cleaner. If your silk can't be put into a washing machine, make a weak solution from water and mild detergent and soak the pillow in the solution, letting it air-dry afterward.
Keep silk out of direct sunlight because this will weaken and discolor the fabric.