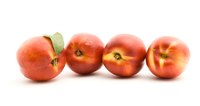 You can freeze peaches with lemon juice to protect their bright color until they are thawed. A large peach harvest can leave a tree owner with too many peaches to use right away. Frozen fruits that are properly prepared and sealed will keep in the freezer for up to a year. Freezing peaches with lemon juice extends the life of the fruit by preventing oxidation over the long freeze. Thawed peaches can be added to a cobbler or pie or simply eaten plain.
Things You'll Need
5 medium peaches
Water
Large stockpot
Stove
Slotted spoon or frying spider
Large bowl
Ice
Cutting board
Knife
Quart sip-top freezer bag
Quarter of a cup fresh, squeezed lemon juice
2 to 3 tbsp. granulated white sugar (optional)
Paper towel
Permanent marker
Freezer
Place the whole, clean peaches into a large stockpot and add enough water to cover them completely.
Remove the peaches and place the stockpot of water on the stove on medium-high heat until it reaches a rapid boil.
Lower the peaches into the boiling water for just under a minute using a slotted spoon or frying spider.
Move the scalded peaches to a large bowl that is half full of ice and water to quickly stop the cooking and chill the peach.
Place the peaches on a cutting board and slice them into eight equally sized wedges. Remove and discard the pits along with any bruised or rotten sections of the peaches.
Slide the segmented peaches into the bottom of a quart size zip-top freezer bag and add the lemon juice. Sugar can be added at this stage to sweeten the fruit and balance the sour lemon juice.
Squish the sides of the plastic bag to thoroughly mix the ingredients before forcing out as much air as possible and sealing the bag securely.
Wipe down the outside of the bag with a paper towel and write the date the peaches are being frozen. This date will help you use the peaches that are the oldest first and prevent you from using any that have gone bad after a year.
Lay the bag of peaches and lemon juice flat in the coldest part of the freezer to quickly freeze so that it can be stacked vertically or horizontally. Make the date labels visible if possible.