Things You'll Need
Bowl

Spoon

Dish soap

Baking soda

Laundry detergent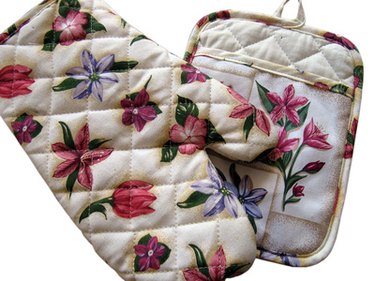 Oven mitts or gloves for handling hot pots and pans need washing occasionally to prevent grease and food buildup. Launder cotton oven mitts in the washing machine with laundry detergent, but first pre-treat grease stains with a mixture of baking soda and dish soap for spotless oven mitts.
Step 1
Mix 1 tbsp. of baking soda and 1 tbsp. of dish soap in a small bowl. Stir with a spoon.
Step 2
Read care instructions on the tag, although most oven gloves are machine washable.
Step 3
Fill the washing machine with warm water and laundry detergent using the amount specified in the instructions. Add the oven gloves and wait for the washing cycle to complete.
Step 4
Remove the oven gloves and place them in the dryer on low heat or air dry them. There's no need to add fabric softener.
Tip
Use chlorine bleach on white gloves to remove stains.