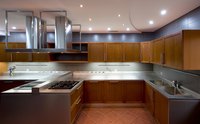 Mmake sure all base cabinets are level when installing your new kitchen cabinets on an uneven floor. Without a level cabinet, any solid surface counter top have an increased chance of cracking. Having level cabinets will give your new kitchen a professional look.
Things You'll Need
4-foot level
Pencil or marker
Tape measure
Hand saw
Piece of 2x4 (6 inches shorter the the length of the cabinet)
Stud finder
3-inch screws
Hammer
2 inch finish nails
Decorative trim
1 inch finish nails
How to Install Base Kitchen Cabinets on an Uneven Floor
Place your first base cabinet in the desired location. Place your four foot level across the front of the cabinet and check for levelness.
Trace around the base cabinet with a pencil or marker to mark its footprint on the floor of the kitchen.
Remove the cabinet you just traced from its current location and measure the thickness of the toe kick. The toe kick is the the bottom board on the front of any base cabinet.
Cut a 2x4 that is 6 inches less than the length of the base cabinet that you just traced.
Lay the 2x4 length wise inside the front line of the base cabinet's footprint. Secure the 2x4 in its final location by setting it away from the front line the exact thickness of your toe kick.
Replace your cabinet in its original place. Hold the cabinet against the wall in a level position using your four foot level. Find the studs with a stud finder and secure the cabinet to the wall with 3 inch wood screws.
Hammer 2 inch nails through the toe kick into the 2x4.
Place a piece of cut trim along the level of the floor and secure it to the toe kick with a construction adhesive or 1 inch finish nails.