Things You'll Need
Fish fillet

Bowl

4 oz. liquid smoke

Salt

Pepper

Plastic wrap

Cooling rack

Nonstick spray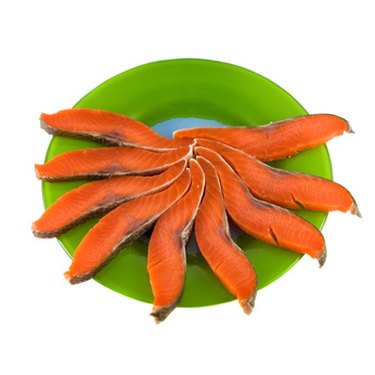 Making smoked fish in your oven will allow you to enjoy the smoked taste without using a smokehouse. Smokehouses are not available in many areas, and many people do not have the space to own one. Liquid smoke, which you can purchase at most grocery stores, provides the smoked flavor while a cooling rack allows the fish to cook on all sides.
Step 1
Place the fish fillet in a bowl.
Step 2
Pour 4 oz. of liquid smoke in the bowl.
Step 3
Coat the fish with salt and pepper.
Step 4
Cover the bowl with plastic wrap. Place the fish in the refrigerator for 8 hours.
Step 5
Heat the oven to 150 degrees Fahrenheit. Remove the fish from the bowl and rinse off the excess salt and pepper.
Step 6
Spray a cooling rack with nonstick spray. Place the fish fillet on the cooling rack and sit it in the oven. This will allow the air from the oven to circulate around the fish.
Step 7
Allow the fish to bake in the oven for 8 hours. Open the oven door and keep it cracked to keep the fish from steaming. Remove the fish once it appears opaque. You can remove the fish safely when it has an internal temperature between 130 and 145 degrees Fahrenheit.