Things You'll Need
Invitations

Red carpet

Instant camera

1940s DVDs

Floral centerpieces

Silk linens

1940s movie posters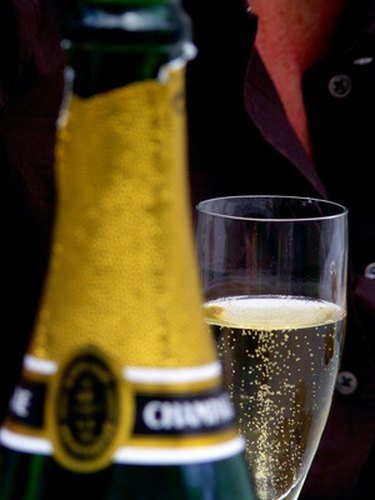 The 1940s are synonymous with glamour, as Hollywood stars wore draped gowns paired with demure gloves and classic hairstyles. The glamorous, romantic look of this era can serve as your inspiration for a themed birthday party. From the invitations to the food, activities and decor, use the glamour of the 1940s to host a high-class birthday party that your guests are sure to enjoy.
Step 1
Send invitations at least four weeks in advance so that your guests can prepare. A classic black and white invitation works for the 1940s glam theme. Indicate on the invitation the theme and any dress requirements. For example, your invitation can say, "Take a step back in time to the 1940s to celebrate Kim's glamorous birthday!" Then, include your dress code at the bottom of the invitation: "Wear your best 1940s glam outfit. Dress to impress."
Step 2
Create a red carpet entrance for your well-dressed guests. Roll out a red carpet leading into the party venue—whether that's the sidewalk in front of your house or the walkway leading into a banquet room at a restaurant. Enlist a few friends to serve as paparazzi, snapping shots of your guests as they enter. With their 1940s outfits and red carpet treatment, your guests are sure to feel like glamorous old Hollywood stars.
Step 3
Use vintage decorations to reflect the era. Calla lilies were popular flowers during the era, according to Dot Com Bride, so create centerpieces using these flowers. Display movie posters from the era. Films like 1942's "Casablanca" and 1944's "Since You Went Away" were classic movies of the era, according to AMC's Film Site. Drape walls and tables in rich, romantic fabrics like silk to incorporate the romanticism of the 1940s into your party.
Step 4
Offer cocktails and hors d'oeuvres on passed trays for a glamorous feel. Appetizers like mini quiches, bacon-wrapped pineapple and kabobs are perfect passed items. Serve champagne in flutes, or set up a martini bar for your guests.
Step 5
Send your guests home with favors. If your party paparazzi use instant cameras, you can send each guest home with her best red-carpet look. Or, offer every guest a 1940s film on DVD so that they can take the glamour of the era home with them.
Tip
If you're looking for fashion inspiration, turn to '40s Hollywood stars like Bette Davis and Rita Hayworth for women and Humphrey Bogart for men.