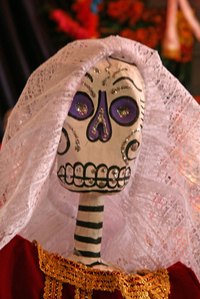 Paper mache is a fun and inexpensive way to create small statues and masks. Producing larger statues may take a bit more work because you will need to create a mold or base to strengthen the paper mache. Plaster of Paris is a good option for creating a base form for paper mache projects. Plaster of Paris gives the sculpture strength and the paper mache overlay gives it a rich texture.
Things You'll Need
Pens
Large mixing bowl
Plaster of Paris
Flour
6-inch newspaper strips
Prep Work
Sketch the statue on paper to get a visual of what you are creating. Decide how large the project will be and the scale of each item.
Cover your work area with newspaper or plastic to avoid a mess.
Making Plaster of Paris paste
In a big mixing bowl, mix plaster of Paris powder with water in a ratio of approximately two parts plaster to one part water. This forms a clay-like paste that can be sculpted into a mold, mask, statuary or other item. If the mixture is too thin, add plaster of Paris powder, if it is too thick or dry add water one teaspoon at a time. For a 6-inch statue, start with about 2 cups Plaster of Paris and 1 cup of water.
Sculpt the plaster of Paris paste into your statue form. The paste sets within 30 minutes, so work quickly.
Set the statue aside to dry. Wait at least 24 hours before beginning the paper mache step to allow the statue to set completely and to avoid mold between the plaster and the paper mache.
Paper Mache Over Plaster of Paris Form
In a big mixing bowl, stir together flour and water to make thin paste. Start with 1 cup of each. The paste should be thinner than cake batter but thick enough to stick to the newspaper strips.
Dip newspaper strips one at a time into the paste mixture. Run fingers down either side of the strip like a squeegee to remove excess paste. Lay the strip on the statue and smooth out any wrinkles or air bubbles. Lay additional strips in a slightly overlapping criss-cross pattern until the statue is covered.
Let the pasted strips dry completely. Add additional strips for a second layer to give it a bit more textural depth.
Let dry for at least 24 hours. Paint or add embellishments like hair or beads.