Things You'll Need
Carousel horse (antique)

Stand (5-foot pole with supporting base)

Mask (filtered respiratory)

Sand paper (up to 600 grit)

Epoxy (Smith & Co. and West System--westsystem.com)

Epoxy sealant (Smith & Co.--smithandcompany.org)

Primer (Smith & Co.)

Paint (acrylic)

Rags

Brushes

Clear coat (Minwax--minwax.com)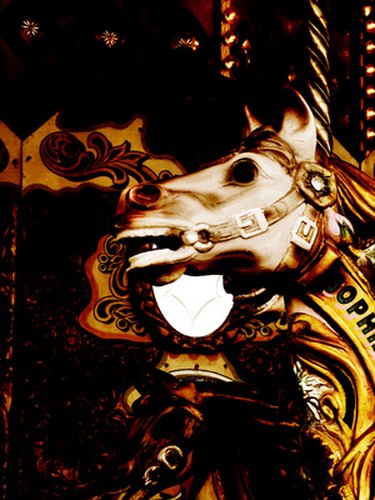 Highly collectible carousel horses come from carnivals of old. The most important thing you must learn about buying and selling antique carousel horses is how to paint carousel horses to maximize the collectible value. These ornamental figures are well traveled, and antique examples are quickly purchased by enthusiasts whenever they become available. When you want to collect amusement art, you can expect great results once you begin restoring antique carousel horses by learning how to paint carousel horses.
Step 1
Place the carousel horse and stand in a well-lit, properly ventilated room free from excess dust and suspended particles of dirt and dust. Before you begin to paint carousel horses, they need to be wiped free of dirt from the surfaces that will receive the restoration and painting products. Wipe the figure with clean, lint-free rags, including the pole protruding out the top and bottom of the figure.
Step 2
Apply epoxy sealant on antique wood that has proof of rotting and age. Protecting the wood underneath the paint is crucial to long-term restoration and will ensure the longevity of the figure after painting. Coat all the damaged area with Smith & Co. sealant and let dry for a minimum of 24 hours.
Step 3
Sand the areas that will receive new paint. Work the sandpaper into the surface evenly and increase the grit until you reach a 600-grit paper. Wipe the entire animal down with a dry, clean rag until all the dust is removed from the carousel horse and around the work area.
Step 4
Coat the carousel horse with primer from Smith & Co. Blend in small spots for partial restorations or cover the entire horse. Preparing the surface for a high quality finish is more than half the job. Allow the primer to dry for 24 hours before moving on.
Step 5
Paint the carousel horse figurine as a restoration to an original condition or create a new look for an old carousel horse. Paint with acrylic paints from FolkArt (plaidonline.com/apFA.asp) for the best blending and reproduction color matching. Create the effects of age and match colors whenever restoring a carousel horse to original condition.
Step 6
Protect the paint with thick coatings of clear coat. Allow each layer to dry and sand lightly with 600-grit paper and apply more coating until you have the quality of finish you want for looks and protection. Let the carousel horse dry for 72 hours before handling or moving it to its new home, auction, shop or carousel.
Tip
Varnish on top of a clear coat can add age to the pristine clear coating that modern clear coats produce. The best way to add depth to the restoration is to cover a completely dry carousel horse that has a clear coat with three layers of varnish to add a smoky depth to painted carousel horses.
Warning
When using restoration products and paints, protect yourself from overexposure to fumes and skin contact by wearing protective clothing, eye wear and breathing filters.