Things You'll Need
Cornstarch

Soft-bristled brush

Vacuum

Hydrogen peroxide

Water

Soft cloths

Bowl

Warm water

Glycerine

Sponge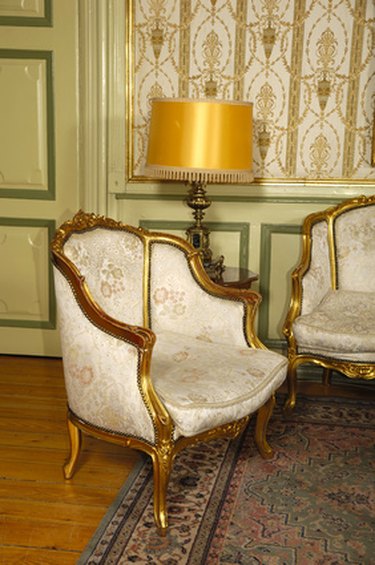 Silk is a protein-based natural fiber produced by silk worms. Although it is durable, silk is also quite delicate. The care of silk upholstery on your furniture can seem like an overwhelming task, especially when dealing with stains. Most silk garments are "dry clean only," but since you can't take your silk-upholstered sofa to the cleaners, you will have to tackle those stains on your own. Some common silk upholstery stains include oil, water, coffee or tea.
Oil
Step 1
Sprinkle the stain liberally with cornstarch.
Step 2
Let sit 5-10 minutes to allow cornstarch to absorb the oil.
Step 3
Use the brush to gently sweep away the excess cornstarch. Vacuum the area well.
Water
Step 1
Combine one tablespoon hydrogen peroxide with eight tablespoons water in the bowl. Mix well.
Step 2
Dampen your cloth in the peroxide/water solution and blot the water stain.
Step 3
Use a dry cloth to absorb excess peroxide and water mixture from the silk upholstery.
Coffe/Tea
Step 1
Blot the stain with a dry cloth to absorb excess coffee or tea.
Step 2
Dampen your sponge with warm water and gently sponge the stain.
Step 3
Rub a small amount of glycerine between your fingers and apply it directly to the stain. Let sit for 30 minutes.
Step 4
Rinse with warm water using your sponge.
Tip
For best results, treat the stain quickly.
Warning
Never use harsh chemicals, including bleach, on your silk upholstery.