Things You'll Need
Heat transfer sheets (light or dark color)

Printer

Computer

Iron

Paper scissors

Crafting knife

Cutting board

Fabric scrap (optional)

Teflon sheet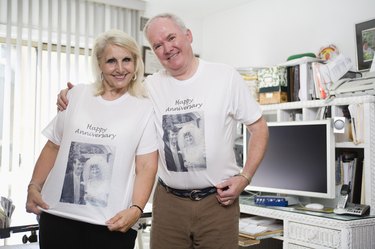 Advanced photo imaging software, printers, scanners and personal computer programs have opened up many creative ways to explore and redesign existing images, photos or graphics. You can transfer your printed images to fabric for projects such as t-shirts or photo quilts with heat transfer sheets.
Preparing Your Transfer Image
Step 1
Purchase heat transfer paper, which is available at office and art supply stores. Light colored fabric will require heat transfer sheets for light colors and dark colored fabric will require transfer sheets for dark colors.The difference is in the application process.
Step 2
Print your image onto your transfer sheet. These transfer sheets have a clear film that releases the adhesive when heated. The clear film is not visible prior to application. If you are working with the light color transfer sheets, make a mirror image of your photo or artwork. The dark color transfer sheets can be printed with the image as it appears on your computer.
Step 3
Lay your fabric on your work surface and smooth out any folds. Read your heat transfer sheet instructions. These sheets often require a high cotton iron setting. Preheat your iron for approximately five minutes. It is important to empty all the water and set it for no steam.
Step 4
Cut out your image with your paper scissors. You can use a crafting knife to avoid jagged edges around your image. Use a cutting board to prevent damage to your table top or work surface.
Transferring Images to Light Color Fabrics
Step 1
Flip your reverse image heat transfer sheet over. The printed image will be facing down on your fabric. Do not remove the protective backing to avoid the graphic melting onto your iron's plate. Place a fabric scrap or a teflon sheet over the backing.
Step 2
Press your hot iron onto the protective backing. Glide your iron for approximately 20 seconds from left to right and from top to bottom. Keep gliding the iron in back and forth strokes for several seconds.
Read your transfer sheet's instructions for the recommended time.
Step 3
Lift the corner slightly off of your image. If the image is not adhering to your fabric, repeat Step 2 several times until the corner appears adhered.
Step 4
Leave the image to cool for approximately two minutes. Peel away the protective backing to reveal your transferred image.
Transferring Images to Dark Color Fabrics
Step 1
Remove the protective backing from your printed image. Handle it with care. The transfer sheet is saturated with color and can begin to curl.
Step 2
Position the image on your fabric. The printed image will be facing you. Gently smooth out the transfer sheet to ensure the graphic is flat on your fabric.
Step 3
Cover the image with a teflon sheet. It is important to cover the entire graphic area. Any uncovered portion of your graphic will adhere to your iron's plate and cause severe damage.
Step 4
Repeat Steps 2 and 3 from the previous section. Carefully lift the teflon sheet, which can become extremely hot during the application process. Let the printed image cool for approximately two minutes.