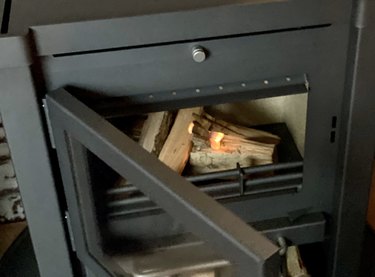 Wood stove glass doors accumulate a brownish-black film of soot and white, hazy deposits over time; you have to expect this with regular use. It doesn't really harm the stove, but it certainly detracts from the stove's appearance and how you see the fire behind it. A regular window glass cleaner won't be able to cut through that crud; you'll need something more potent and more effective.
The crud consists of built-up creosote, ash, soot, carbon and other minerals, so you'll want to cover the floor with newspapers and wear a pair of work gloves for this messy job. Also, be sure to wait until the wood stove has cooled completely. Then, get a wire brush and scrape away any buildup around the metal frame surrounding the glass. Do the same on the inside of the glass to ensure both sides are clean.
This DIY wood stove glass cleaner is the best way to clean wood stove glass. Pour a cup of distilled white vinegar into a bucket and add some baking soda a bit at a time, continuing until it forms a workable paste. Then, take more newspaper to dip into the mixture and clean up the glass surface. Use your gloved hands and be careful not to scratch the glass. Then, use fresh vinegar and newspaper to remove the pasty mixture. Keep replacing the newspaper until the glass is clean.
Keeping Wood Stove Glass Clean
Although it's pretty much impossible for wood stove glass to stay clean, there are ways to keep the buildup to a minimum. Use dry, well-seasoned wood rather than damp, unseasoned wood because the latter creates much more smoke. You'll also want to place the wood as far back as you can from the glass because when that touches the surface, it creates instant blackening. Always keep the fires burning hot since smoldering fires create more smoke.
If the glass has blackened, you'll need to try a different method in order to reduce that effect. To start, you can try gathering some of the wood stove ash and dampening it with water. Apply this to the blackened area with newspaper and scrub carefully. Never use a razor blade on wood stove glass because this will damage it in a way that cannot be repaired.
My DIY Woodstove Cleaner Didn't Work
Sometimes, homemade fireplace glass cleaners won't work, especially if the buildup is significant, or the stains are burnt onto the glass. Some people use spray-on oven cleaners and other household cleaning products, but not all of these products are suitable for glass. Others contain harsh chemicals that can irritate the skin, eyes and lungs. Be extra careful with these and don't use them on the door seal or cast iron parts.
A wood stove glass cleaner product can do this job for you, and using this sort of product is less involved and won't make as much of a mess. These are designed specifically for these stoves, but read the manufacturer's directions carefully when using them. You may also want to remove the glass door to clean it, but check the wood stove manufacturer's instructions first.
Don't wait too long before cleaning the glass. When cleaning, check for any cracks in the glass or damage to the seal around the door and make any necessary repairs.