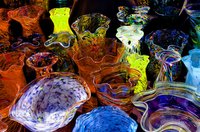 Slumping glass constitutes bending, or "slumping," fused glass over or into a mold. Glassworkers usually slump their medium over metal molds and into ceramic molds. To complete the slumping process, take your glass through heating and cooling processes.
Things You'll Need
Place your glass on prepared mold inside of kiln. Heat the kiln to slumping temperatures. GlassFusingMadeEasy.com recommends that you heat glass should heat glass to a temperature between 1,200 degrees and 1,400 degrees Fahrenheit (F), depending on your kiln.
Allow glass to heat slowly in order to prevent thermal shock. Once your kiln reaches 1,000 degrees F, the glass will begin to look glossy. When your kiln has reached 1,000 degrees, you shouldn't have thermal shock issues.
Begin watching your glass at 1,300 degrees F. According to GlassFusingMadeEasy.com, glass slumping begins at 1,300 to 1,400 degrees. Monitor the process, and keep notes on your progress. Allow your glass to soak, or continue to slump in the heat, which will allow the glass to flatten out and shape to the mold. Your glass will now appear smoother in appearance.
Reduce the heat in your kiln, and begin cooling your glass once satisfied with the slumping of your glass into the mold. Cool the glass rapidly to avoid devitrification, or the development of a white scum, by opening the kiln lid and allowing the temperature to drop to 1,100 degrees F. You can also cool the glass by turning off your kiln and allowing the glass and kiln to cool down naturally.
Begin the annealing process when your glass has reached 1,000 to 1,050 degrees F. Annealing—allowing the glass to slowly cool down—will relieve stress built up within the glass.
Anneal your glass by maintaining heat in your kiln at 1,000 to 1,050 degrees F for around 20 minutes—a process referred to as "heat-soaking" glass. After the soaking period, slowly drop the kiln temperature. Allow your glass to slowly cool in the kiln if unsure of the annealing point of your glass. Slowly dropping the temperature also goes by the names "shotgun annealing" and "constant linear annealing."
Complete the slumping process for small pieces by turning off your kiln to allow the glass to cool naturally. If your kiln maintains heat, the natural cooling should be adequate to prevent thermal shock. For larger pieces, continue to heat-soak the piece, reducing kiln temperature by 5 degrees every 20 minutes.