Things You'll Need
Double-ended crochet hook

Light colored yarn (A)

Dark colored yarn (B)

Scissors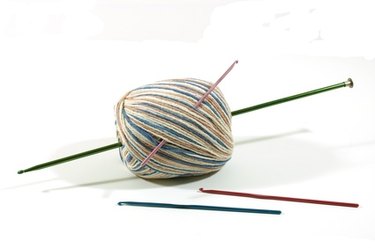 You've seen the traditional crochet hooks, which have a hook on one end. They come in all sizes and in materials including plastic, aluminum, steel and even bamboo. You've probably also seen the Afghan or Tunisian crochet hook, which is a cross between a knitting needle and a crochet hook. Now there's the double-ended crochet hook or "cro-hook." Use this hook to crochet in the Tunisian stitch. Because it's double-ended, you can easily incorporate two colors into your work, making stripes.
Step 1
Put yarn A on one side of you and yarn B on your other side. Make a slipknot with yarn A and make 20 chains. For row one, continuing with yarn A, yarn over (YO) and pull up a loop in each chain. At the end of this row, drop yarn A but do not cut it.
Step 2
Turn the hook and your work, pushing the loops to the other end of the hook. Carefully transfer your skeins of yarn to opposite sides, taking care not to tangle them. Using yarn B for row two, work your return row by YO and slipping your hook under the vertical bar until you get to the end of the row. Don't turn your work.
Step 3
Crochet a forward row for row three, continuing with yarn B. You're working in Afghan or Tunisian crochet and working under the vertical bars of yarn A. Make sure you have 20 stitches and drop yarn B.
Step 4
Turn the hook and work, pushing the loops to the opposite end of your hook. Using yarn A, work a return row of Tunisian crochet for row four. Continuing with yarn A, crochet a forward row, again working under the vertical bars of yarn B. Continue crocheting, repeating rows two through four until you reach the end of your project.
Tip
Crocheting with a double-ended hook is similar to Afghan or Tunisian crochet.
When you get to the end of a row with one color, drop that color but do not cut it.