Things You'll Need
Tape measure

Primer

Paint

Stain (optional)

Sealer (optional)

3-inch painter's brush

4-inch foam roller and pan

Rags

Power screwdriver

Drill (optional)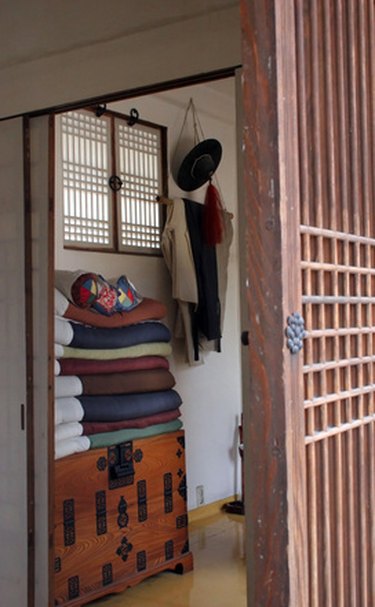 Large, mirrored closet doors were not in style as of 2010, so many people want to replace them. The most difficult aspect of replacing sliding mirrored doors is the actual weight of the mirrors. Once the doors are gone, selecting attractive replacement doors for your bedroom can be an enjoyable process. Many new designs are available and all of them are likely to weigh less than the mirrored doors, making them easier to install.
Step 1
Measure the opening of your closet. This means you measure from the inside trim face on one side to the inside trim face on the other side. Next, measure from the inside trim face at the top to the top of the floor surface. These measurements represent your actual opening size.
Step 2
Prime and paint or stain and seal your doors on both sides before you install them. Use a quality satin finish or trim paint, a 3-inch brush and a 4-inch foam roller. The roller helps apply the finishes more quickly and the brush produces a smoother finish. Allow your paint or stain to dry completely before installing the doors. Most finishes dry in 24 hours.
Step 3
Remove your mirrored doors by lifting them up in and out of their brackets. It may take two people to carry each door. Use a power screwdriver to remove the remaining brackets on the top of the opening and on the floor.
Step 4
Install the new upper bracket, using the hardware provided with the bracket and a power screwdriver. Lift your new back door (the roller hardware should already be installed). Slide the rollers into the track. Repeat with your front door.
Step 5
Place your bottom bracket in the center of the opening between your two doors. Screw your bottom bracket into the floor. Drill pilot holes if you are mounting into hardwood.
Tip
Your doors should slide easily from side to side.