Things You'll Need
Dishwasher soap

Baking soda

Salt

Scrubbing pad

Paper towel or soft cloth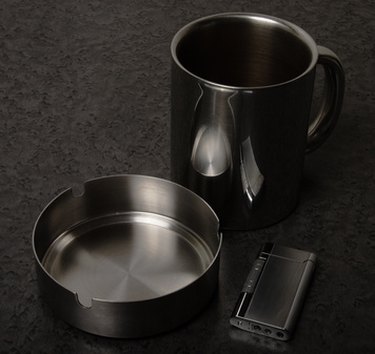 Stainless steel, an iron alloy, is known for its hardness and stain resistance and is used for utensils, appliances, sinks and even countertops. Stainless steel is often mandated for countertops in commercial kitchens because it is easy to sterilize and keep clean. For everyday cleaning, polish with olive oil or vinegar. Remove streaks with club soda or a commercial stainless steel spray. Very dirty stainless steel requires a bit more elbow grease and a few household products.
Step 1
Clean dirty stainless steel. Pour 1/4 cup dishwasher soap or baking soda in 1 quart of hot water. Dip a scrubbing pad in the solution and rub the dirty stainless steel. For dirty pots and pans, fill pots with the above solution and boil on the stove for 1 hour. Remove the pan from the heat, pour out the water and scrub away any remaining stains.
Step 2
Clean burnt pans. Pour 1/2 cup salt into the pan and add 1 quart water. Soak overnight. Drain the water and scrub away any remaining stains.
Step 3
Rinse your stainless steel thoroughly with running water or a soft cloth. Wipe dry with a paper towel or soft dry cloth to prevent water stains.
Tip
When cleaning appliances or countertops, always wipe in the same direction as the grain to prevent scratching. Remove minor scratches by polishing with a white nylon pad. Don't use harsh abrasives or steel wool on stainless steel. Don't spill dry dishwasher soap on flatware. Doing so can leave dark spots.