Things You'll Need
Steamer rack for unit

Parchment paper or cheesecloth

Cooking timer

Oven mitts

Tongs or long-handled spoon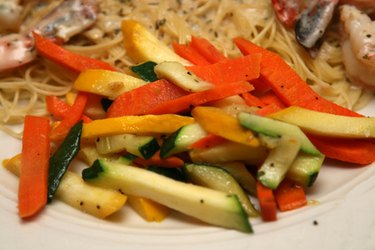 An oven roaster is an electric tabletop appliance that works well in small apartments or when preparing a large meal and the kitchen range is full of other items. Capacity on these units vary, but most are approximately 18 quarts. Roasters will do just about anything a regular oven can do, and because the cavity is small food cooks efficiently. For steaming, an oven roaster needs a rack that fits inside the unit. These typically come with the unit but sometimes need to be purchased separately.
Step 1
Place steamer rack into the unit and add water until the level comes to just below the rack. Some cooks like to use broth, fresh herbs or lemon slices in the water to add flavoring to the steaming process. Remove the rack from the unit after measuring the water level and set it aside for a later step.
Step 2
Put the lid on the roaster and preheat the unit at 400 degrees for 15 to 20 minutes. Preheating cuts down on actual cooking time and gives you an opportunity to prepare vegetables or other foods for steaming.
Step 3
Put the food to be steamed on the rack. Some racks have wide-spread rungs that allow smaller foods like peas or diced carrots to fall through. If this is the case, use parchment paper or cheesecloth as a liner on the rack and place the food on that.
Step 4
Remove the lid and set the rack into the roaster oven. Be mindful of the steam; use hot pads to protect your hands during this step. Replace the lid on top of the unit.
Step 5
Set a timer for the steaming time. Light foods such as spinach, thin-sliced carrots, asparagus, chicken thighs or fish fillets can take approximately 15 to 20 minutes. Larger cuts of meat or root vegetables can take considerably longer. If a recipe book with time suggestions did not come with the unit, use a standard recipe book for general guidelines.
Step 6
Remove the lid and the rack when cooking time is complete. You will need to use hot pads: The rack handles will be hot. The rack may need to be set into a larger pan that will collect dripping moisture.
Step 7
Use tongs or a long-handled spoon to remove the food from the steamer basket and place on the serving dish.
Step 8
Turn off the unit and when the water has cooled, remove the cookwell for cleaning.