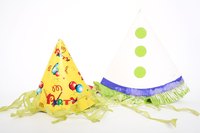 A surprise birthday party can be fun. It takes careful planning in order to pull off the surprise effectively. The surprise party should focus on the guest of honor and allow the children plenty of time to socialize. Many of the activities you use for a traditional party can be used during a surprise party; the main difference in the party is keeping it a secret from the guest of honor. Most people love the fun and surprise of finding out there is a party just for them.
Things You'll Need
Ask the child's best friend for help in planning the party. This friend will know whom to invite and what the best activities would be. Most of the planning can be completed in one quick phone call.
Determine the location of the party, depending on the activities that you want to include. Some surprises are easier to pull off at a restaurant, a pool or a park than they are at home.
Send out invitations for the party. Emailed invitations make it easier to keep the party a secret, because the child might see a paper invitation at a friend's house. Phone invitations can work as well. Providing your cell-phone number as the RSVP contact number will prevent any messages from being left at your home and overheard by your child.
Prepare goody bags for the kids. A surprise-party goody bag could be filled with some of the guest of honor's favorite things. Including candy, makeup (for girls) and other fun items can add the perfect touch to the surprise party.
Distract the guest of honor while you set up the party. A day at the spa with a friend, or a dinner out with a relative are good ways to keep your child gone long enough for you to decorate and for guests to arrive. If the party is somewhere else these activities work as well.
Surprise the child by hiding and then jumping out when she arrives. This is the best part of a surprise party.