Things You'll Need
Three sheets of 8 1/2" x 11" cardstock

Scissors

One sheet of heavy cardstock or cardboard

Hole punch

Two loose-leaf book rings

Ribbon

Glue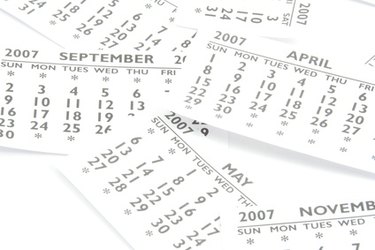 A simple flip calendar is a handy tool to have on your desk for quickly referencing the date. While this type of calendar is typically small, with few details, it can provide an overview of the month ahead with just a glance. Creating a flip calendar may seem like a challenging product to create because of the distinct manner in which this calendar stands on a flat surface. With some basic office supplies, however, you can quickly construct a basic flip calendar on your own.
Step 1
Print small monthly calendars, four to a page on standard 8 1/2-inch by 11-inch cardstock. You can find a variety of calendar templates for Word at Microsoft Office Online, or you can design your own in a graphic design program. Cut the calendars apart and trim excess edges. The finished calendar pages should be about 4 inches by 5 inches.
Step 2
Cut a piece of heavy cardstock or thin cardboard to 5 inches by 11 inches and fold it in half.
Step 3
Punch two holes in the top corners of the calendar cards with a hole punch. Thread a loose-leaf book ring through each hole.
Step 4
Punch two corresponding holes in the upper corners of the cardboard, where you want the calendar cards to hang. These holes should be on the end near the crease in the cardboard.
Step 5
Cut a length of ribbon to about 3 inches. Glue one end of the ribbon to the bottom center of one side of the cardboard. Extend the cardboard into an upside down "V" shape and secure the opposite end of the ribbon to the other side of the cardboard. The ribbon will be between the legs of the "V" to keep the stand from falling flat.
Step 6
Thread the loose-leaf book rings with the calendar pages through the top holes of the cardboard calendar stand and close the rings.
Tip
For a more decorative calendar, mount the calendar pages on colored cardstock, add a colored border or embellish it with stickers.