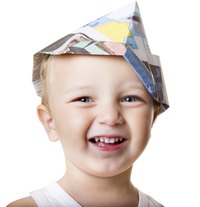 Whether looking for a Columbus Day craft or talking to kids about early sailors, a simple paper hat can capture a child's imagination. All that is needed is a sheet of paper and tape or staples. The paper is folded into the hat shape and secured so it won't fall apart as the child plays. While newspaper is commonly used for Columbus hats, any kind of paper will work. The hats can be left plain or decorated to reflect Columbus's time period – or a child's imagination.
Things You'll Need
Rectangular paper
Tape or stapler
Crayons (optional)
Markers (optional)
Paints (optional)
Stickers (optional)
Fold the long side of the paper in half, lining up the corners and edges neatly to keep the fold even along the center of the paper.
Turn the folded corners of the paper down toward the center of the paper and line them up with each other evenly. Create a fold from the center of the paper down to the edge of the paper.
Separate the two layers of paper at the bottom. Fold one side upward, lining it up with the bottom of the triangle fold, to form a cuff. Turn the hat over and repeat the fold on the other side. If desired, the top of the cuff can be folded inward to create a stiffer cuff that will hold the shape of the hat better.
Staple or tape the folded cuff to the hat to hold it in place. The hat can be worn as is or decorated using crayons, markers, paints or stickers. Hats decorated with paint need to dry completely before being worn.