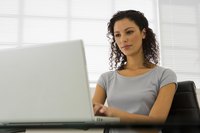 The catalog essay is one of the most important forms of art writing. If you have been asked to contribute an essay to an art catalog, chances are great that you already are familiar with the artist in question. You may even be a friend of hers. While it may seem daunting at first, writing an art catalog essay is a rather straightforward process. Even if you have never written art criticism before, anyone with a little knowhow, some basic research skills and the ability to form an opinion is capable of writing a memorable catalog essay.
Begin with the artist's biography. The biographical details should include facts about the artist's birth and early upbringing, education, exhibition history and any awards she might have won. This should be easy to summarize by researching details of the artist's life online. If this is a new or emerging artist, about whom little is known, then you may have to interview her.
Evaluate the artist's work to date. Has she worked across several media, or has she focused all of her efforts on, say, painting? What were some major turning points in the artist's career?
Identify a consistent theme running through the artist's work. How has she dealt with it throughout her oeuvre? What does she seem to be saying through her artwork?
Analyze that theme. This is the fun, subjective part. You have already presented all the information. Now it's your turn to make your own contribution to the artist's work and reputation.
Draw a conclusion. It should synthesize all of the information you have presented so far—biographical, oeuvre-related, thematic and analytical—into a cohesive statement. This is your chance to make a lasting impression on the readers, and perhaps even change their perceptions of the artist's work.