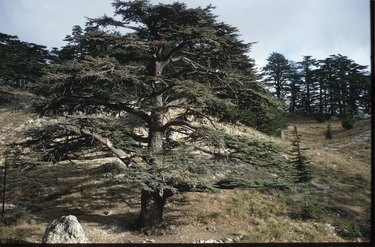 There are 22 species of cypress tree (Cupressus, USDA hardiness zones 4-10), and there are two main ways of planting cypress trees. The options include planting young ones into the ground or using cypress tree seeds. They can grow into large shrubs or evergreen trees, topping off at 12 to 125 feet high. What are the best ways to grow cypress trees?
How to Plant Cypress Trees
It is much more challenging to find cypress trees in Northern climates, but you can order them online if you find a reputable vendor. In Southern states, they are easily found at university extension sales and nurseries. If you need to know when to plant cypress trees, you can start growing them anytime in the spring through the fall as long as it's before the first frost of the year. They can grow to be quite tall, so be sure to give them the space they need. They prefer loam or light sandy soil, and cypress trees do best in full sun.
If you are planting a young tree or replanting an older one, dig out a hole that's twice as wide and as deep as the cypress root ball's size. Lower in the tree, leaving its base 1 to 2 inches above the soil. Fill in the hole halfway, add two gallons of water and then add the rest of the soil, tamping it down to remove air pockets. Water your cypress once weekly throughout the first summer after planting. You can fertilize it the following spring with a 10-10-10 fertilizer.
Cypress trees are evergreen conifers. They have a pleasant scent and pyramid shapes and colors that vary from light bluish-green to darker green. The fruits are small cones that can look like nuts or woody cones that are about 2 inches wide, and each one contains up to 30 cypress tree seeds. The ones that look like nuts are called cypress tree balls, and one species that produces these is known as the bald cypress (Taxodium distichum 'Pendens,' USDA hardiness zones 4-9).
Bald cypress tree balls are round and about 1 inch in diameter. These are green and tough when they appear in the fall, but they will turn woody soon after that in the season. They have scales, and each one has two triangular seeds. Squirrels, wild turkeys and other animals love them. Bald cypresses are slow-growing trees and can live to be as old as 600 years.
Planting Cypress Tree Seeds
To grow a bald cypress tree from cypress tree balls, harvest the nuts in the fall before they open. After harvest, you will want to let them dry and then break them apart to reveal what's inside. It's hard to separate the seeds from the resin completely, so it's a good thing that you actually don't have to; however, you should avoid getting it on you because it's sticky and hard to remove. Store the seeds in airtight containers in your refrigerator for 60 days.
Fill a planting tray with damp or loamy soil and lay the seeds on top. Cover the tray with wet newspaper and place it by a window away from heaters and heating vents. Keep the soil moist but not soggy. It can take anywhere from 30 to 90 days to produce a seedling. You can transfer these to larger containers, and when they are well-established, plant them outside.