Things You'll Need
Corned beef roast

Sharp knife

Roasting pan, Dutch oven or slow cooker

Water or beef broth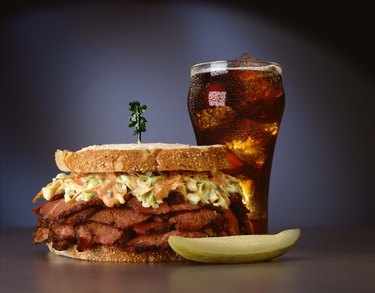 Corned beef is the traditional meat served on Saint Patrick's Day. Like many roasts, unless cooked properly, corned beef will dry out during the cooking process, leaving you with a slab of almost inedible meat. There is one way of cooking corned beef that will leave it moist and tender every time. Braising is a method of cooking in small amounts of water for long periods of time. Braising can be done on the stovetop, in the oven or in a slow cooker.
Step 1
Remove the corned beef from the vacuum packaging, reserving the liquid and spices in the bag.
Step 2
Trim away the visible fat from the roast, using a sharp knife.
Step 3
Place the roast, fat side up, in a roasting pan, Dutch oven or slow cooker.
Step 4
Pour in the reserved liquid and spices. Add water or beef broth to bring the level of the liquid halfway up the side of the roast.
Step 5
Cover the roasting pan, Dutch oven or slow cooker. Roast the corned beef in a pre-heated 325 degree Fahrenheit oven for two to four hours or until a meat thermometer registers 160 degrees. Cook in a Dutch oven over medium low heat two to four hours or until the meat can be easily pulled apart with a fork. Slow cook on low for eight to 10 hours.
Tip
If cooking the corning beef in the oven or on the stove top, check the liquid levels after two hours. You may need to add more liquid to keep the roast from drying out.
If you plan to add vegetables to the corned beef, add them halfway through the cooking time if cooking in the oven or on the stove top.
If cooking in the slow cooker, add the vegetables first and place the corned beef roast on top of the veggies. Add one cup of water or broth and let cook eight to 10 hours on low.