Things You'll Need
Word processing software

Inkjet printer

Plain paper

Ribbon, satin or smooth

Double-sided tape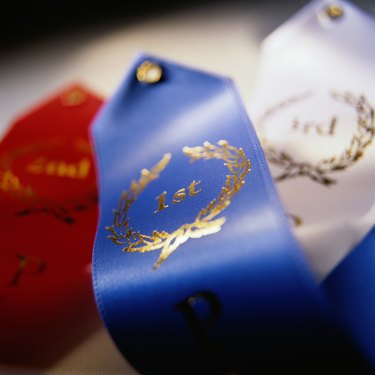 Create personalized ribbon to use in your craft projects or in wrapping gift packages using your computer and inkjet printer. Printing ribbons is easy and much more affordable than having them professionally printed, especially if you only need a few. Personalize the ribbons for any holiday, event or occasion.
Step 1
Open a letter-sized document in any word processing software.
Step 2
Type the information you would like printed on the ribbon. For example, type "Happy Birthday" or "Merry Christmas" and then add names to personalize the ribbon.
Step 3
Go to "Format" in the top toolbar and select "Font." Change the style of the font, the color and the size. Make sure to choose a size that is small enough to fit the width of the ribbon.
Step 4
Insert paper into the printer and print the personalization information onto the paper.
Step 5
Remove the paper from the printer. Place a strip of double-sided tape onto the back of the ribbon. Position the ribbon directly over the words on the paper and press down to ensure adhesion. Smooth the ribbon to make sure there are no air pockets.
Step 6
Place the paper back into the printer exactly as it was before. Go to File > Print and select "Properties" from the printer pop up. Change the paper type to inkjet transparencies. Changing this uses less ink when printing and will prevent ink bleeding on the ribbon. Print the personalization again directly onto the ribbon.
Step 7
Remove from the printer and gently peel the ribbon off of the paper. Peel the tape off of the back of the ribbon carefully and use as desired.