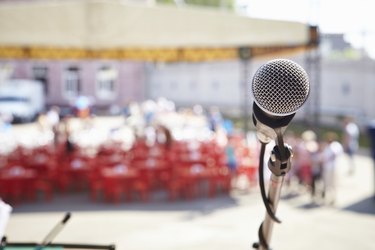 If you've been given the honor of making a speech at a retirement party for a former teacher, it's likely due to the close bond you shared with the teacher. Recall your years with the educator in question and think about how the teacher's lessons continue to impact your life. Your speech doesn't need to be long, but it should share several poignant stories that recognize the teacher's contributions.
Explain Your Connection
Begin your remarks by explaining your connection with the teacher and how you felt upon being asked to give a speech. For example, you might state that you had this teacher for five classes throughout high school, and they were the best classes of your high school career. Or, perhaps you had the teacher for only one semester, but received immeasurable lessons from him. Stress how honored you feel to share a few stories and, if you're the only former student on the podium, suggest that you're just one of countless students the teacher impacted positively.
Share Specific Anecdotes
Recounting real-life interactions between you and your teacher is an effective way to honor the teacher and connect with the audience, which likely includes a combination of the teacher's family, colleagues and former students. Think of the times the teacher went above and beyond to help you. Perhaps the teacher stayed after school several times to make sure you didn't fall behind in class or, in addition to being an exemplary teacher, was also a skilled coach of a sports team or yearbook leader. Specific anecdotes help bring your speech to life and connect with the audience.
Discuss the Influence
Share specific examples about how you carry the teacher's lessons with you today. If you're in a university, you might note that the teacher's catchy rules for mastering tricky grammar challenges have helped you with your post-secondary assignments. If you're in the world of work, you could note how the teacher's knack for engaging everyone in the class has made you a better team leader at work. If applicable, provide a humorous example such as when you catch yourself using poor grammar, you think of how the teacher would gently remind you to speak correctly when you were in her class.
Share Your Best Wishes
End your speech by offering best wishes for the teacher's retirement. Some teachers have mixed emotions about retiring, especially if they expect to miss helping students. Stress that despite leaving the classroom behind, the teacher's lessons will continue to influence several generations of students. If you know specific details about the teacher's retirement plans, share them. For example, suggest that if the teacher brings the same enthusiasm to traveling as teaching, her suitcases will be worn out before long. If applicable, raise a glass to toast the teacher at the conclusion of your speech.