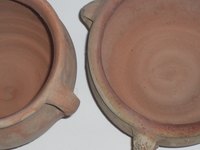 The art of clay pot cooking goes back thousands of years to when the Romans used pots of earthenware. Today, many professional chefs are rediscovering the clay pot as a tool to prepare large cuts of meat that require long, slow cooking. Cooking in clay pots is very much like working with a slow cooker. Modern clay pot cookware is made of various materials, including terracotta and sand. Some clay pots are glazed; others are not. One fail-safe dish to prepare in a clay pot is a pork roast.
Things You'll Need
1/2 tsp. rosemary
1/2 tsp. thyme
1/8 tsp. pepper
Small bowl or ramekin
1 cup chopped onion
4 red potatoes
12 oz. baby carrots
8 mushrooms
1/2 head of garlic
1 lb. pork tenderloin (4 oz. per person)
Meat thermometer
Cooking mits
Soak the clay pot and the lid in warm water for 15 minutes. Both items need to be completely submerged in the warm water.
Mix the rosemary, thyme and pepper in a small bowl or ramekin.
Remove the pot from the soaking water and layer the onion, potatoes, carrots and mushrooms on the bottom.
Sprinkle the vegetables lightly with a few drops of water.
Rinse the pork roast under running water.
Rub the cut edge of the garlic over the surface of the roast. Using your hands, rub the herbs over the roast.
Place the roast on top of the vegetables in the clay pot.
Cover the clay pot with the lid and place the pot into a cold oven. Turn the oven to 475 degrees F and bake the roast for 90 minutes, or until a meat thermometer inserted into the center of the roast reads 170 degrees F.