Things You'll Need
Spray bottle

Cotton mop

Bucket

Acetone

Mineral Spirits

Steel wool pad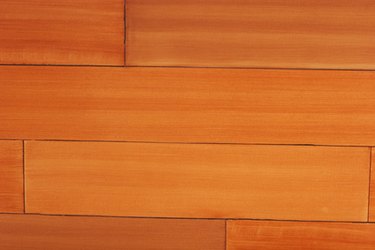 Cleaning your wood floors requires special care to prevent build-up and streaking. Sometimes cleaners leave noticeable streaks on your wood flooring that may be difficult to remove. There are products you can use to remove streaks, and prevent them from returning to tarnish your floors.
Step 1
Strip build-up from wood floors finished with aluminum/oxide by mopping with undiluted acetone. Acetone will eat away at waxy build-up that may have started to leave streaks on your wood floor. You may need to clean your floors with acetone up to three times to remove all of the accumulated build-up. Fill a clean spray bottle with acetone and mist the surface of the floor so it is covered with undiluted acetone. Mop the area clean. Allow the floor to air dry before repeating.
Step 2
Damp-mop your floor with warm, clean water. Wet the mop and wring it completely, so the threads are damp. Run the damp mop over the surface of your floor, concentrating on streaked areas.
Step 3
Strip away wax that may be contributing to your floor streaking with steel wool and mineral spirits. Pour mineral spirits over the floor and gently scrub with a steel wool pad.
Step 4
Rewax and polish the floor to restore the shine.
Step 5
Prevent streaks from occurring by regularly dust mopping your hardwood floors. Actively dust mopping keeps dirt and debris from building up on the surface of the floor, making them easier to clean and less likely to streak.