Things You'll Need
2 yards outdoor-grade fabric

2 yards muslin

2-inch upholstery foam

Utility knife or foam saw

Sewing machine

Scissors

Ruler or tape measure

Pencil

Marker

Straight pins

Needle and thread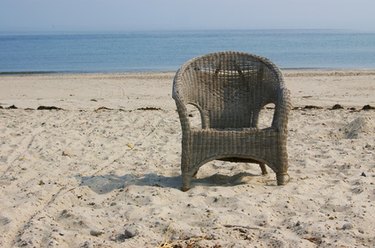 Wicker is a durable material, which makes it ideal for outdoor furniture. However, it is not very comfortable to sit on. You can make your own cushions for your wicker furniture to match your patio décor and stand up to inclement weather. If you are recovering old cushions, you can use these cushions as a pattern. However, it is still really simple even if you have to start from scratch.
Step 1
Drape a piece of muslin cloth over the part of the chair you would like to cover. Trace the shape of the cushion you would like to create with a pencil. This piece of muslin will be your pattern for making your cushions.
Step 2
Remove your muslin from your wicker chair and fold in half vertically. Be sure your trace lines match up as closely as possible. If your pattern is not symmetrical, it will not look or sit right on your wicker chair. Once you are satisfied with the symmetry of your pattern, cut out your shape.
Step 3
Decide how thick you want your cushion to be. Approximately 2 inches is ideal for this project. Find a piece of upholstery foam in your desired thickness, or layer several sheets of foam if needed. This foam can be found in most home repair and hobby stores.
Step 4
Lay your muslin pattern flat on your sheet of foam. Trace around the pattern with a marker. Cut along these lines with a utility knife or foam saw.
Step 5
Choose fabric that will endure rain and direct sunlight. Marine-grade vinyl is ideal because it can be hosed off to clean and can withstand sunlight with minimal fading. However, cotton-based fabrics will work; they just might need extra care, as in taking them inside or spot cleaning.
Step 6
Fold your piece of fabric in half, with the pattern side in. Lay your piece of muslin on your folded fabric and pin in place with straight pins. Add two inches around your pattern for a small seam allowance and to account for the width of the foam and batting of the cushion. Cut out your shape from both sides of your fabric to have two identical pieces.
Step 7
Sew your two fabric pieces together, inside out, leaving one side open. Adding a second line of stitching will increase the strength of your cushion. Cut off any excess material and turn right side out.
Step 8
Wrap your foam in a layer of cotton batting. To keep your batting from shifting during use of your cushion, use a spray adhesive to keep it in place.
Step 9
Slide your batting-wrapped foam into your fabric through the un-sewn edge. Once it is in place, sew the cushion closed by hand.
Tip
If you are more advanced at sewing, consider adding a zipper to the open side, instead of stitching it closed, so you can remove your cushion cover if desired.
Warning
Only use spray adhesive in a well-ventilated location.