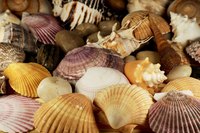 Children love to collect shells when they go to the beach. Parents can help their children clean and preserve these shells. The shells can then be arranged and displayed somewhere in the home. A basket of shells looks great in a powder room or as a centerpiece for a coffee table. Preserving seashells is easy, and your children can do it themselves with a little guidance.
Things You'll Need
Pot
Water
Pot holders
Tongs
Seashells
Paper towels
Bleach
Mineral oil
Paintbrush
Bring a pot of water to a boil and add your seashells. This is the best way to clean the seashells so that you can preserve them. Make sure you use pot holders, and drop the seashells in to the pot with a set of tongs.
Wait five minutes and then use your tongs to remove the seashells from the water. Set them on a few paper towels.
Remove any animals that were living inside of the seashells with a spoon. They should come right out after boiling.
Fill a large bowl half with equal parts bleach and water. Set your seashells in the bleach-and-water solution. Let them sit for an hour or two. This will remove the outer covering (the periostracum) of the seashell so that the seashell can shine.
Rinse the seashells off and wait for them to dry.
Use a paintbrush to brush mineral oil over your seashells. Make sure you get in every crack and crevice. Then set the seashells on a few paper towels to dry.