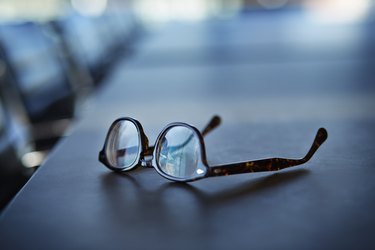 Being nearsighted or farsighted can be inconvenient, and glasses must be maintained with the best eyeglass cleaner in order to offer proper vision enhancement. Salinated water (whether from the ocean or your saline solution) can seriously damage both bare glass lenses and eyeglass coatings, potentially ruining an expensive investment and necessary piece of everyday equipment. Your glasses can be exposed to saline water from something as basic as your sweat dripping onto the lenses while mowing the lawn or as intense as kayaking on a rough day. Regardless of how they were exposed to saline water spots, you need to know how to protect and clean your eyeglasses.
Cleaning Salt Water Off Glasses
The primary danger of salinated water to your glasses occurs when it dries on glass surfaces. Once the water has evaporated, it leaves behind salt crystals that can erode glass and coatings. It can also scratch the glass if improperly removed. One straightforward solution is to thoroughly rinse your exposed glasses in clean, warm (not hot) freshwater before they dry. High-temperature water can cause more harm than good when attempting to clean lenses. The heat can warp frames and damage lens coatings.
While they are still wet from the rinse, gently use a clean microfiber cloth to polish and dry the lenses. Make sure that any visible spots on your lenses and frames have dissolved in the water before using the cloth. If you can still see visible rings of residue, it means the salt crystals are still present and will likely scratch your lenses when you start polishing with the microfiber cloth.
If you don't have access to clean freshwater, a short-term solution to the threat of the saltwater drying out is to simply keep your lenses wet. Quick, repeated dips into the water to keep them wet can buy you some time. You do, of course, run the risk of dropping your eyeglasses into the water (particularly problematic if the water in question is the ocean), but it will also prevent the formation of salt crystals until you can properly clean them.
Lingering Salt Spots on Glasses
You'll occasionally have some stubborn crystals that won't dissolve even in clean, warm water. This is often a problem on eyeglasses treated with anti-glare or anti-fog films. The best eyeglass cleaners in this case are commercial options. Untreated eyeglasses can sometimes be treated by applying a tiny amount of liquid hand soap and gently rubbing with your fingers, but eyeglass lens films can easily be damaged from even mild chemicals.
Start by looking for a lens cleaning solution with a pH between 5.8 and 8 that specifically states that it is intended for filmed or coated lenses. Spray your lenses and allow it to work for two to three minutes and follow the guidelines, waiting until all indications of salt have dissolved before wiping it. If all else fails, an ultrasonic cleaner should remove any and all marks, though you should avoid placing scratched lenses into such a device.
Damaged Eyeglass Coatings
Sometimes, damage may occur during the removal process, or the salt may have scratched your lenses without you realizing it. Sometimes, spots on eyeglasses that won't come off are actually small nicks in the lens or on its coating.
If, despite your best efforts, you have managed to scratch the coatings or glass of your lenses, you can try some alternative solutions. Once damaged, repairing an anti-reflective coating is impossible, but you can strip the damaged film and replace it. Of course, your optometrist or eyeglass repair shop can do this for a price that is usually less than the cost of a new set of glasses, but there are a few ways to remove the coating yourself if the lenses are undamaged.
It's important to know the material from which your lens is made, as the stripping process for one type could ruin the other and vice versa.