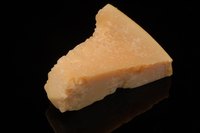 Parmesan cheese naturally gets harder as it ages. This is normal and you should be able to grate it using a microplane or food processor no matter how hard the cheese gets. If you need to soften it, you can try several methods, although it may affect the texture of the cheese. Parmesan, unless covered in mold, will improve in taste the older it gets.
Things You'll Need
Clean, moist dishcloth
Ziptop freezer bag
1 inch section of new sponge
Simple Method
Wrap the Parmesan in a clean, moist dishcloth. Insert the wrapped cheese into a large ziptop freezer bag.
Press out any air in the bag before you fully seal the bag shut.
Place the cheese in an area where the temperature will remain between 55 and 65 degrees F for 24 hours. This should soften the cheese enough to be used with a box grater or for slicing.
Vinegar Method
Cut a 1-inch square section of a new sponge.
Soak the sponge section in vinegar. Squeeze out the excess.
Wrap the sponge in cheesecloth. Place it along with the cheese into a ziptop freezer bag. Press out as much air from the bag as possible before sealing.
Place the bag in the crisper section or on the lowest tray of your refrigerator. Check after two days for softening. If needed, repeat the soaking of the sponge and let it sit another day or two.