Whether you're camping outdoors or huddled up inside on a chilly night, there's nothing better than sitting around a roaring fire. And of course you can start a fire on your own -- no one is challenging that. The purpose of these scented wax fire starters is to add a lovely aroma to your ambiance. Plus, they just look so charming, don't they?
(Don't have a fireplace? Simply use these as candles. Be sure to place them in a candle holder or heat-resistant dish.)
Warning
Do not use in gas fireplaces.
Things You'll Need
1 bag of soy wax chips


Double boiler

Cupcake mold (We used a snowflake flexible silicone mold for this project)

Fragrant spices such as cinnamon sticks, rosemary, star anise, cloves and bay leaves

Mini pinecones

Bamboo skewer


2-inch candle wicks

Step 1
Begin by melting soy wax in a double boiler, stirring every so often until the wax is completely melted.
Step 2
Pour a 1/4-inch of wax into each mold. Set aside until cool.
Step 3
Once the wax has cooled, start adding your spices and pinecones. If needed, use a bamboo skewer to help position the items.
Step 4
Fill the mold cavities approximately half way up with more hot wax. Use the bamboo skewer to position the wicks and then set aside to cool.
Step 5
Once the wax fire starters are completely cooled, gently pop them out of the molds. And guess what? You're done! Keep them prepped and ready to go by your fireplace, or wrap them up during the holidays as a thoughtful hostess gift or stocking stuffer.
Tip
To use, place under firewood and light the wick.
Here's to warm hearths and homes.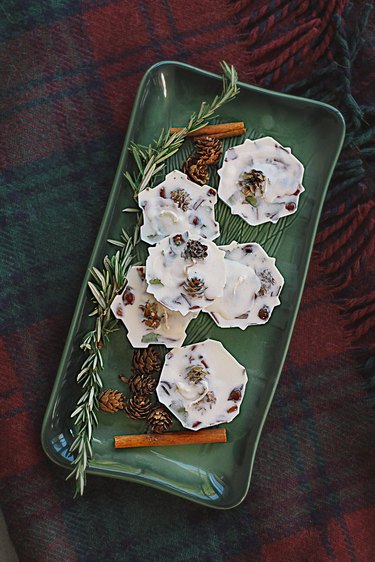 Watch the Video!