Things You'll Need
Construction paper

Pencil or chalk

Level

Drill

Masonry screw

Masonry drill bit (size determined by masonry screw size)

Drinking straw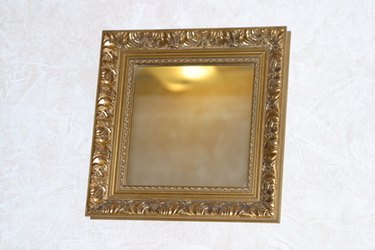 A mirror above a stone fireplace adds a nice, decorative touch to a room. Although stone is a solid surface on which most people are not familiar with installing mounting hardware, installation is basically the same process as hanging a mirror on other surfaces. Use a template to position the drill holes to reduce the risk of mistakes. Use the smallest masonry screw possible for the weight of the mirror to reduce the size of the holes in case you want to remove the mirror later and patch the holes.
Step 1
Determine the location of the top of the mirror by holding it against the stone fireplace in position. Mark the stone with a pencil or chalk so the mark can be removed at the end of the project.
Step 2
Place construction paper against the back of the mirror with the top edge of the construction paper aligned with the top edge of the mirror.
Step 3
Make holes in the paper at the location of the screw holes for the hanging hardware.
Step 4
Hold the construction paper against the stone fireplace with the top edge of the construction paper aligned with the mark for the location of the top of the mirror.
Step 5
Level the mounting hardware if there is more than one screw needed by placing a level across the two screw holes in the paper. Mark the stone through the holes in the construction paper with a marker or chalk. This can be done with a marker since these locations will be removed when drilling the holes for the screws.
Step 6
Insert a masonry drill bit into a drill. The bit size is determined by the size of masonry screw used. This information is printed on the masonry screw package. Drill a hole into the stone approximately 1/8 inch deeper than the length of the chosen masonry screw at the locations marked for the mounting hardware.
Step 7
Use a straw to blow the stone dust out of the holes. Close your eyes to prevent stone dust from getting into your eyes.
Step 8
Insert the tip of a masonry screw into the holes and use a drill with a screwdriver bit to tighten the screws into the holes. Allow a portion of the screws to remain outside of the holes to hang the mounting hardware on the back of the mirror.
Step 9
Hang the mirror on the stone fireplace.
Tip
The use of a construction paper template reduces the chance of measurements being off when hanging things on any surface.
Warning
Wear safety glasses or goggles while drilling into the stone and while installing the masonry screws to prevent the risk of pieces of stone getting into your eyes.