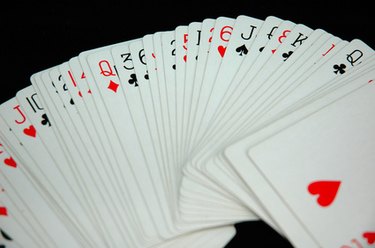 Euchre is a popular card game played by two teams of two people per game. In many parts of the country, lots of people play euchre for fun--and sometimes for money. As a result, hosting a euchre tournament fundraiser can be a good way to raise money for a charity or organization. A euchre fundraiser can bring people together for fun and company, and for a good cause.
Step 1
Build a team of volunteers, calling on people in the organization for which you are holding the fundraiser. You will make the volunteers feel valued by including them in every step of the planning--plus, they might have great ideas.
Step 2
Pick a date for the euchre tournament fundraiser. Choose a date that is far enough out that you have time to organize and advertise the event, and a date that does not conflict with a holiday or other time when people might not be able to attend.
Step 3
Pick a location. The organization might have its own space that you can use for the event. If not, see if a local event hall will let you rent the hall for free or at a discount, in return for advertising at the tournament.
Step 4
Decide what types of refreshments to provide, and whether you will offer alcoholic drinks. Consider providing a cash bar with proceeds going to your cause. Check with city hall to see if you need a special permit to serve alcohol or food.
Step 5
Decide how you will raise money during the fundraiser. For example, you could charge a fee to enter the tournament, or you could charge a fee for each game played. You also could sell tickets for a raffle at the end of the fundraiser. Choose prizes that are not too expensive but are still nice, such as a bottle of wine or a knife set, or ask merchants to contribute raffle prizes.
Step 6
Design invitations or fliers for the euchre tournament fundraiser event. Include the organization's name, the place and date of the euchre tournament fundraiser, and any other important information such as a cover charge. Make sure the title of the fundraiser stands out to attract attention, and include a picture. Be sure to let guests know where their money will go and what it will buy.
Step 7
Decide on the number of tables to have at the fundraiser, and buy one deck of cards for each table; you can buy special euchre decks, or you can create a euchre deck from a regular deck. Buy some extra decks of cards, in case any are lost or damaged, or anyone requests an extra table.
Step 8
On the night of the fundraiser, assign tasks to each volunteer and ensure they are familiar with their job description. Hand out thank you cards, or small gifts if funds allow, to each volunteer to thank him for his help in organizing the euchre tournament fundraiser.