Things You'll Need
Oranges

Paring knife

Clear bottle with lid

Safflower oil

Measuring cup

Bowl

Muslin

Dark bottle with lid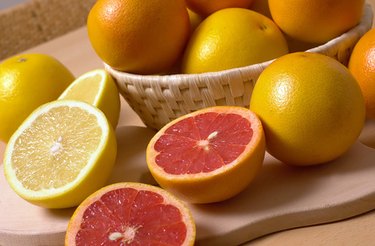 Homemade fragrance oils can be more cost effective than commercially available oils, but they do require time and attention to create. There are several accepted methods for making fragrance oils, but the easiest is to steep the oil in the desired scent over a period of time. This method is known as effleurage. Heating the oil during this process, called maceration, is a way to speed up the developing fragrance. Make orange and other types of citrus fragrance oil as easily as you make scented oils from flowers, spices and herbs.
Step 1
Peel six thin strips from an orange. Insert the peelings into a clear glass jar.
Step 2
Measure and pour 8 ounces of safflower oil into the glass jar. Seal the lid on the jar tightly and place the jar on a sunny windowsill for 48 hours. Shake the jar every 12 hours.
Step 3
Strain the contents of the jar through muslin into a bowl. Squeeze the muslin to extract as much of the oil into the bowl as possible. Discard the strained material.
Step 4
Pour the oil from the bowl back into the glass jar. Add six thin strips of fresh orange peel. Allow the jar to sit in a sunny location for 48 hours, shaking every 12 hours.
Step 5
Repeat steps 3 and 4 until the oil reaches the desired level of fragrance. Pour the oil into a dark bottle and store it in a cool, dark location for up to 12 months.
Step 6
If a sunny windowsill is not available, place the bottle of oil and orange peel into a pan filled with cold water. Heat the water slowly until it is warm, but not hot. You should be able to touch the water comfortably with your hand. Keep the oil heating at this temperature for 10 minutes once each day. Strain and replace the orange peel every three days. Repeat this process until the oil reaches the desired fragrance level.