Things You'll Need
Masking tape

Stencils

Iron

Press cloth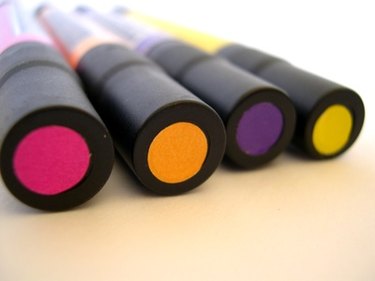 Fabric markers are an arts and crafts accessory used to paint and personalize clothing, blankets, tapestries and curtains. Use fabric markers to color in specific designs or create a tie-dyed pattern without the mess and hassle of using dye. Provide supervision with young children using fabric markers when making craft projects.
Step 1
Wash and press the fabric you plan to decorate with fabric markers to clean any lingering dust or chemicals from it. Allow the fabric to dry.
Step 2
Test an inconspicuous piece of the fabric to check whether the paint will take before you start painting your project. Allow it to dry and inspect it before moving on to paint the fabric.
Step 3
Lay your fabric out on your work surface so it is smooth. Tape the edges to hold the fabric in place while you work.
Step 4
Shake the fabric markers before using, and check the tip to see if there is a plastic protector that needs to be rubbed or clipped off.
Step 5
Create designs on your fabric with stencils, or by freehand, painting evenly over the surface of your design.
Step 6
Allow the fabric marker paint to dry for three to five days. Test the surface of the paint to ensure it is dry.
Step 7
Plug in your iron and set it to the temperature setting for the fabric you used, and allow it to heat up. Lay a press cloth over the painted design and move the heated iron over the painted surface evenly, applying heat for 10 to 15 seconds.
Step 8
Wash the fabric in cool to warm water on the gentle cycle and hang to dry by air.