Things You'll Need
White distilled vinegar

Cold water

Bucket

Rubber gloves

Scrub brush

2 soft, non-abrasive cloths

Nose mask (optional)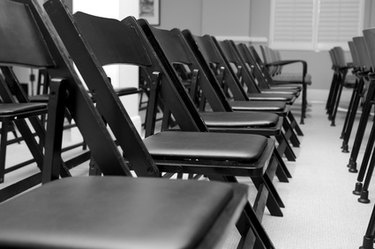 As with other materials, vinyl is susceptible to dirt, dust and grime. These substances leave a cloudy film on vinyl. Using the wrong cleaner also leaves a cloudy film on vinyl surfaces including flooring and seating. Removing the cloudy film requires a cleaner that won't leave a residue on the vinyl yet is strong enough to cut through the film and remove it. Once the cloudy film is removed, you need clean your vinyl surfaces regularly to keep the film from returning.
Step 1
Mix 1 cup of white distilled vinegar and 1 gallon of cold water in a bucket. Wear rubber gloves to keep your hands from getting wet.
Step 2
Stir the mixture with a scrub brush.
Step 3
Dip a soft, non-abrasive cloth into the vinegar mixture. Wring out excess mixture.
Step 4
Wipe the vinyl surface with the vinegar mixture-soaked cloth to remove the cloudy film. Re-dip the cloth as needed and wring out excess mixture.
Step 5
Continue wiping the vinyl surface until the cloudy film is gone.
Step 6
Let the vinyl surface air dry or blot it dry with a clean non-abrasive cloth.
Tip
If the cloudy film is thick, do not dilute the white distilled vinegar. Wear a nose mask if the smell of vinegar bothers you.