Things You'll Need
Stiff-bladed 3-inch putty knife

Small hammer

Flat garden spade

Iron pry bar (optional)

Wraparound safety glasses

Medium/heavy leather work gloves

Shop or wet/dry vacuum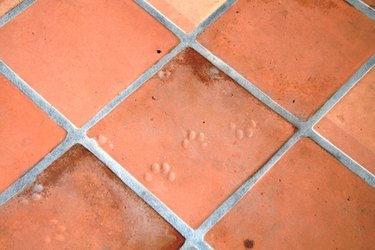 There's no better way to refresh a room than by removing the existing tile and replacing it with a new design or color. It can be difficult to remove tile from a window sill, especially if it's been there for many years, but, given the right amount of preparation and concentration, it can be done in a very economical fashion.
Step 1
Wedge your putty knife in between each tile and pound the handle with your small hammer to remove the grout for each individual tile. Repeat this for every tile until the grout is loosened.
Step 2
Attempt to pop the tiles off the window sill by driving the putty knife under each tile at a small angle, with the blade nearly parallel with the floor. It's OK to hit the end of your putty knife with the hammer to free each tile from the cement underneath.
Step 3
Pulverize the cement underneath once you have removed all the tiles from the window sill. Wood might be exposed underneath the cement, so use a shop vacuum to remove the cement debris.
Step 4
Drive the garden spade in between the wood and the cement board, lifting the cement board 6 inches above the wood board. Keep moving the spade left and right to pop the entire cement board from the wood board.
Step 5
Continue to pry at the board, especially if there are nails in place to keep the two parts together. If necessary, use the pry bar to pop the cement board off completely.
Step 6
Remove the cement board when it's completely freed and dispose of it properly.
Step 7
Vacuum the remainder of the debris up with your shop vacuum.
Tip
There are many situations in which tiles were applied to window sills and the like. Consult with a professional if your tile wasn't applied on top of a cement/wood base.