Things You'll Need
Safety glasses

Leather work gloves

Chisel

3-pound sledgehammer

Pry bar

Broom

Dustpan

Garbage can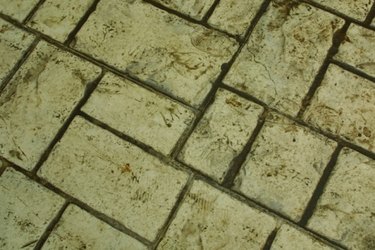 Removing a slate floor from concrete is a labor-intensive job. Slate is affixed to the floor with a concrete-based thin-set mortar that dries and sets into an incredibly tough layer. Because of the nature of the thin-set and the inherent toughness of slate, there is no easy way to remove slate tiles from concrete. You can rent a machine to rip up the tile, but you'll need to be very careful when using it so you don't damage the floor. The best way to get rid of a slate floor is still tried-and-true elbow grease.
Step 1
Put on a pair of safety glasses and leather work gloves. Broken slate is very sharp and can cause as much damage as glass.
Step 2
Choose a spot in the center of the floor. Place the chisel against the floor and hit it with a 3-pound sledgehammer. Hard, firm strikes with the sledgehammer will start breaking the slate apart.
Step 3
Chip away at the slate until it starts breaking off the floor in chunks. With enough pressure, the concrete thin-set will separate from the floor. Pry the slate up with a pry bar when it is possible to get a tool underneath it.
Step 4
Sweep the floor with a broom to check your progress and identify difficult areas. Use a dust pan to collect the detritus and empty it into a large garbage can. You can pick up big chunks of slate by hand, but small pieces of slate can stick to the floor, so sweeping regularly will help find these.
Step 5
Continue chipping away at the floor with the chisel and the sledgehammer until all of the slate has been removed.
Tip
Remove cabinets and porcelain fixtures to prevent accidental damage. Working with a chisel and sledgehammer is not a gentle job, and collateral damage is common.