A comfortable watch band is hard to find and once you find one you may never want to give it up. Whether you want to change the color of a watchband to meet your new fashion sense or you've noticed that over time your favorite watchband has absorbed oils which darkened the band, you can change the color of a watchband with little investment in time or money. Needing to change the color of it is no reason to replace it.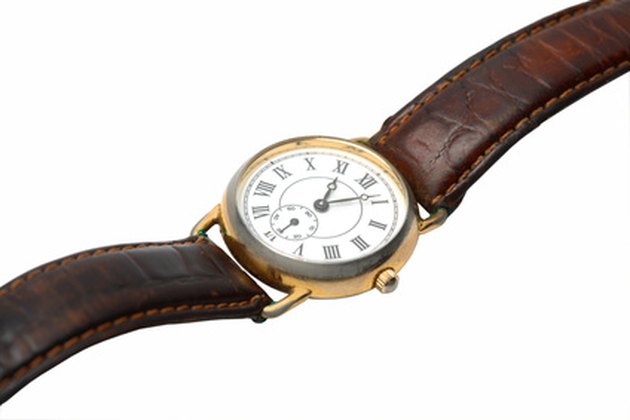 Things You'll Need
Painter's tape

Solvent-based leather cleanser

Abrasive pad

320-grit wet-dry sandpaper

3 clean cotton cloths

Denatured alcohol

Rubber gloves

Liquid leather dye

3 sponges

Hair dryer

Gloss-finish leather sealant

Matt-finish leather sealant

Leather-protection cream
Step 1
Remove the watch and any removable metal components of the band or cover them completely with painter's tape.
Step 2
Remove any oils and the manufacturer's finish on the leather band by placing a small amount (approximately a dime-sized dollop) of solvent-based leather cleanser on an abrasive pad and rubbing the leather surface of the band with the abrasive pad. Continue prepping the leather with the leather cleanser until you start to notice that the abrasive pad is picking up the color of the leather.
Step 3
Wet a sheet of 320-grit wet-dry sandpaper with the leather cleanser and rub it gently across any creases in the watchband.
Step 4
Wipe the band with a clean cloth that has been dampened with denatured alcohol. Wait 30 minutes for the alcohol and cleanser to evaporate.
Step 5
Shake a small bottle of liquid leather dye for three minutes to verify that it is well mixed. Put on rubber gloves to avoid staining your hands.
Step 6
Apply a base coat of new color by pouring a small amount (approximately a dime-sized dollop) of leather dye onto a clean, dry sponge and, using light pressure on the sponge, rub the dye onto the band. Use a hair dryer to dry the band.
Step 7
Apply additional coats of leather dye to the band by adding additional dye to the sponge, wiping the band with the sponge and drying each coat with the hair dryer until you reach the color consistency that you are looking for. Wait 30 minutes after the last coat to assure that it has dried completely.
Step 8
Wipe the leather watchband with a clean, dry cotton cloth to remove any excess dye.
Step 9
Apply two coats of gloss-finish leather sealant to the watchband with a second clean sponge to seal the new color onto the watchband. Dry it with the hair dryer between coats.
Step 10
Apply two coats of matt-finish leather sealant to the watchband with a third clean, dry sponge to reduce the glossy finish to a more typical watchband finish. Dry the band with the hair dryer between coats. Allow the finishing coats to dry for 24 hours.
Step 11
Rub a light coat of leather-protection cream onto the watchband with a cotton cloth and wipe off any excess that is not absorbed after 30 minutes before wearing the watch.
Tip
Leather dye, finishing products and conditioners are available at most large craft stores and online. A local leather tannery or saddle-repair shop are also a good resources for leather-dyeing supplies.
Warning
Leather dyes do stain your hands. Wear rubber gloves while working with them.