Things You'll Need
Drywall panels

Furring strips

Measuring tape

Utility knife

Concrete Screws

Drywall Screws

Drywall Adhesive

Drywall compound

Drywall taping tools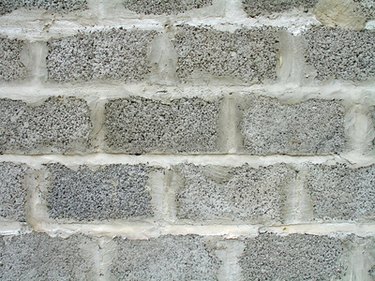 Drywall panels, made from compressed gypsum, offer a smooth surface when used to construct walls. While drywall is typically installed on framed wood walls, you can install the panels on the interior of a cinder block wall as well. You'll have to create a wood grid on top of the blocks to hold the panels.
Step 1
Run a base furring strip along the bottom of the cinder block wall from end to end. Furring strips come in various widths and thicknesses and you may use dimensional 2-inch by 4-inch wall studs or thinner boards for furring.
Step 2
Install vertical furring strips every 16 inches on the cinder blocks, using concrete screws to hold them in place. Leave a 1-inch gap between the bottom of the vertical furring strips and the base furring strip. This gap is for installing electrical wires and cables for television or internet.
Step 3
Begin in an upper corner and squeeze a line of drywall adhesive, approximately as thick as your little finger, along the furring strips. Drywall adhesive comes in heavy tubes that fit in caulking guns. Use it only where you will apply the next drywall panel.
Step 4
Attach the drywall panel to the furring strips with drywall screws. Drywall is heavy and awkward and in most cases, it requires at least one assistant to hold a panel in place while you install the screws. The head of the drywall screw should create a slight depression in the panel but don't install it so deeply that it breaks the paper covering on the drywall.
Step 5
Continue to install the drywall panels, fitting them along the top edge of the wall first and then the lower edge. Turn the panels horizontally and fit them together as snugly as possible. Use full panels and minimize cutting to reduce taping.
Step 6
Apply drywall mud to the seams and the screw holes in the panels. Using a drywall taping knife, smooth the mud on quickly and evenly, pressing it into the seams. Wipe off excess mud with your knife and allow the seams to dry completely before applying one or two more thin coats of mud.
Step 7
Sand the wall when the drywall compound is dry. Your wall is now ready for paint or wallpaper.
Tip
If desired, you may install board insulation directly to the cinder block wall before installing the furring strips.