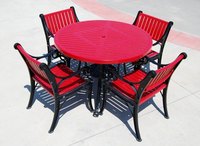 Exposure to the elements eventually wears on patio furniture, requiring that the patio chair or cushions be recovered. Recovering patio chairs makes the outdoor furniture items appear brand new. Recovering the cushions and plastic, wood or metal parts of the chairs also allows you to change the color scheme on your patio chairs, even if recovering is not absolutely necessary. The process to recover your patio chairs and other patio furniture and cushions will take only a day to complete.
Things You'll Need
Sandpaper
Old newspaper
Masking tape
Spray paint
Water-resistant fabric
Industrial cutting scissors
Safety pins
Thick needle
Nylon thread
Repainting
Sand down the wood, metal or plastic surfaces of the patio chairs to prepare them for painting. The paint will adhere better to a rough or matte surface than to a polished or slick surface.
Cover parts of the chair that you do not want to paint with pieces of newspaper and masking tape. Cut the newspaper pieces to fit and remove any cushions before painting.
Spray on the paint in your chosen colors. Use an appropriate type of spray paint for the material the patio chair is made of. Using spray paint provides an even coat without brush marks and running paint drips. Allow the painted patio furniture to dry overnight before removing the tape and newspaper, then using the chairs or other furniture.
Cushion Recovering
Measure the current or old cushions for the patio chair to make a pattern for the new covers. Write down the measurements of the width, length and thickness of each cushion and add an inch to all sides of each piece to allow for the seams.
Cut out the water-resistant material pieces you'll need to make the cushion covers; if the fabric is thick you may need industrial-grade scissors. Safety-pin the pieces together leaving ½ inch at all seams.
Sew the pieces together using a strong, thick industrial needle and nylon threading. Leave at least one seam or side open, place the old cushion inside the new cover, then sew the final seam.