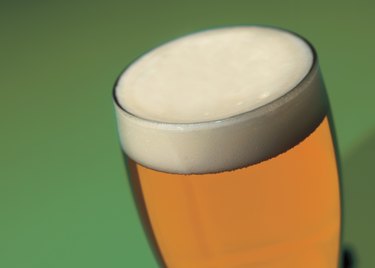 Beer is best appreciated in the company of others. Let this fun drink become a way to make your cause or organization a little extra money by having a beer-tasting fundraiser. You can hire a caterer or rent out a bar or restaurant for the event—or hold it at your own home. With a little advance planning, you can contact a local brewery, or even a big, nationwide manufacturer, and encourage them to donate beer for your particular cause. A beer-tasting fundraiser is an enjoyable way to hold a social event and raise money for a good cause.
Step 1
Find a space to host the event. You'll either want to find a house to use, obtain the necessary permits to hold your beer-tasting fundraiser in a park, or rent out a restaurant or bar. If you rent out a bar or restaurant, even if the owner is sympathetic to your cause, you will probably have to pay a lot.
Step 2
Line up beer for the fundraiser. If you are holding the event at a bar or restaurant, this is already taken care of. Otherwise, write a donation letter a couple of months in advance to breweries asking for beer for the tasting. Donation letters are most effective when written on official letterhead with the your nonprofit number (if you have one) included. A brewery may be happy to comply, since this is a great advertising opportunity for it. You can also ask each guest to bring some beer to contribute.
Step 3
Use a donation letter to encourage local grocery stores to donate snacks. Eating between tastes of beer will help clear the palate, and prevent guests from drinking alcohol on an empty stomach.
Step 4
Research the types of beer you'll serve. Call the brewery for a description, or look up information online. If you don't know what kinds of beer will be at the event, get a general beer guide or be sure to have your computer close at hand for easy referencing.
Step 5
Advertise the event. Make sure that everyone who attends is 21 or older. In any advertising material, detail what the fundraiser is for and how much money you want to raise.
Step 6
You can calculate how much to charge each person by dividing how much you'd like to make, plus expenses, by how many people you expect to show up. Include the ticket price on the advertising material, or suggest a sliding scale donation.
Step 7
Be sure to state that this is a donation-based event, and that you are not selling alcohol—unless you have a license to sell alcohol. Check your local laws to see what permits, if any, you need.
Step 8
Collect money at the door, or ask for it in advance. You may sell tickets to the beer tasting, or you may choose to collect money as people arrive.
Step 9
Serving small tastes of each beer, possibly in shot glasses, so that no one gets too drunk.
Warning
Make sure you obtain all the permits necessary for holding a beer-tasting fundraiser.