Things You'll Need
Soft pencil

Watercolor paper or canvas (300 lb or more)

Kneaded eraser

Glass object

Variety of watercolor brushes

Masking fluid

Watercolor paint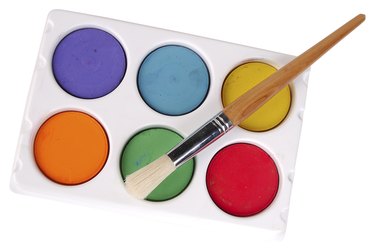 Achieving the beauty of reflection in art takes keen observation and skill; painting glass is an exercise in technique and form and may require several attempts before it is executed properly. Watercolor's permanency after it is dry allows less room for mistakes, so the use of this medium requires specialized techniques. It requires you to plan ahead because you can't go back and change it later.
Step 1
Sketch a fine outline of the object onto the watercolor paper. Erase and refine until you have a thin, light line.
Step 2
Observe your subject and find the brightest, whitest areas that are reflecting off the glass. Take a small brush and paint any white shapes onto the object using masking fluid. Allow fluid to fully dry.
Step 3
Paint a wash of the mid tones by adding a bit more water and mixing the color of the glass into your palette. If the glass is clear, reflections will likely include several different colors, so be sure to separately paint them on. Wait for each to dry before applying the next. Continue repeating this process until all mid tones and colors are filled in. Allow to dry.
Step 4
Look for shapes that are following the contours of your object. These shapes may look confusing even while closing one eye at a time, but just pick the view you like best. Using a very steady hand and the tiniest brush you have, paint the darkest lines and shapes that you can see. Allow the paint to fully dry.
Step 5
Remove the masking by gently rolling it with a fingertip and peeling it off. Refine the edges of the reflections and observe whether the edges are the same colors or darker; refine the shape of the reflection and change accordingly.
Step 6
Erase the pencil line around your object. If you want, you may now paint on a dark background using a larger watercolor brush or you may leave it white.
Tip
The quality of your watercolor paint and brushes play a crucial role in painting and can make the process easier; try to invest in professional grade Winsor & Newton Watercolors and natural hair watercolor brushes.
Note that lights and darks are not usually connected fluidly, or if they are, there is a break somewhere. Your observation is your most important tool. If something doesn't look right, view the little reflections as lines and shapes that need to be in exact proportion to what you see.
Warning
Be sure the weight of the watercolor paper is at least 300 lbs, or it will buckle and may even tear during painting since it is not taped down. Watercolor canvas is also ideal.