Things You'll Need
Shelves

Spray paint

Triangle hooks

Hammer

Yardstick

Pencil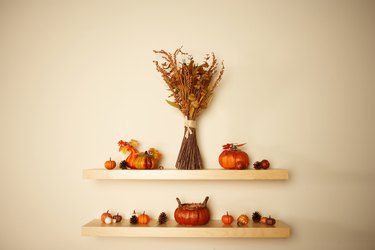 For a home with limited storage space, shelving is a suitable option. Decorative shelving adds visual appeal to a room at the same time giving you an attractive option for displaying your favorite treasures. For an eclectic look, hang an arrangement of shelves in different lengths on your wall, which would be a good method for showing off your best yard sale and thrift store finds. Arrange the shelves flush against the wall, alternating shelf lengths for a dramatic look. Despite various decorations and sizes, tie the shelves together by painting them all one color.
Step 1
Spray paint the shelves the same color. Take the shelves outdoor or in a well-ventilated area. Lay the shelves on a tarp or drop cloth with the fronts facing you. Spray paint the shelves by spraying the paint in an even sweeping motion. Avoid drips that make your paint work look bad. Apply two coats of paint to get a deeper color. Allow the paint to dry for several hours before working further with them.
Step 2
Turn over each shelf, and add hardware if it needs it. Tap two triangle hooks lightly into place with a hammer. Position one hook about one-third and the second hook at two-thirds the length of the shelf to evenly distribute the weight of your goodies.
Step 3
Lay your shelves on the floor in the area you plan to hang them. Arrange them on the floor first to get a good idea of what your wall shelving will look like.
Step 4
Position a small shelf at the top right of the wall, and position a longer one about one foot beneath and a little to the left.
Step 5
Position the longest shelf somewhere in the middle of the arrangement as a focal point anchor. Arrange the remaining shelves below the large shelf in a straight but uneven manner.
Step 6
Hang each shelf up one at a time, pulling them as you need them from the floor arrangement you have made. Use a yardstick and a pencil to mark the wall where you want to hang the shelves. Drive nails into the marks you make, two for each shelf.