Things You'll Need
Lamp kit

Tin shears

Electric drill & drill bit

Dry, empty beer cans

Acrylic tubing or wooden base

Lamp shade

Utility gloves

Small finishing nails (optional for wooden base only)

Liquid nails (optional)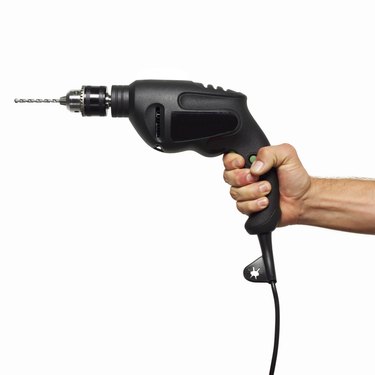 You can recycle beer cans into lamps in a few easy steps. The lamps make great decorations or gifts for anyone who enjoys a cold one. Use a prefabricated lamp kit to make the project even easier.
Beer Can Lamp Construction
Step 1
There are two options for building a beer lamp: a singular stack of cans protected and displayed in a clear tubing, or flattened cans attached to the exterior of a wooden base. Choose your preference and break out your tin shears.
Step 2
Singular stack. Cut a hole in the bottom of each can to fit your plug through. It might be necessary to widen the opening at the top of the beer can to accommodate the plug. Feed the cord through the cans and slip your acrylic tube over the stack. (It may be necessary to use liquid nails or glue to hold the can stack together.)
Step 3
Wooden base. Shear off the tops and bottoms of the can. Cut a seam down the side of the can's cylinder to create a flattened sheet of aluminum. These flattened sheets can then be attached to the wooden base with small finishing nails or liquid nails in a variety of patterns.
Step 4
Drill a tiny hole toward the bottom of the acrylic or wooden base to fit the lamp cord through. If your lamp kit comes with the plug already attached, you can instead drill a small notch at the base of your lamp to accommodate the cord instead.
Step 5
Feed the cord through your lamp base, then attach the socket and plug as instructed by your light kit. Top it off with a shade and your beer can lamp is good to go.
Tip
When assembling a stack of cans, make sure the holes line up or you will have problems threading the cord.
Warning
Sheared aluminum is very sharp. Make sure you wear protective gear. Working with electricity always is dangerous, so make sure the cans are completely empty and dry before attempting this project.