Things You'll Need
Empty dish detergent bottle

1 oz. liquid peppermint castile soap

2 cups of water

1 tsp. glycerin

5 drops lavender essential oil

Plastic container with a lid

1/2 cup of soap flakes

1 cup of diatomaceous earth

1/2 cup of baking soda

3 tbsp. glycerin

Blender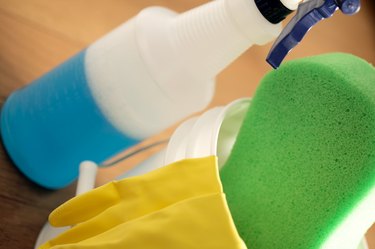 Glycerin is an organic compound that contains no color or odor. Glycerin is a versatile product that is often used in foods, hand soaps and as a cleaning agent. When used with food, glycerin can add a sweet taste. When used in hand soaps, glycerin works to soften the skin. It is also known to help preserve food. Glycerin can also be used as a cleaner for both dishes and counter tops. You can make these cleaners right at home.
Glycerin Dish Detergent
Step 1
Clean out an old dish detergent bottle. Pour in 1 oz. liquid peppermint castile soap, and add 2 cups of water.
Step 2
Add 1 tsp. of glycerin to the dish detergent bottle, and then drop in 5 drops lavender essential oil.
Step 3
Mix the four ingredients together and then place the lid back on the dish detergent bottle.
Step 4
Use to clean your dishes.
Glycerin Cleaning Paste
Step 1
Place 1/2 cup of soap flakes and 1 cup of diatomaceous earth in a blender and blend until a fine powder forms.
Step 2
Add 1/2 cup of baking soda and blend to combine.
Step 3
Pour the three ingredients into a plastic container and then add glycerin. Mix together and you should have a nice paste.
Step 4
Rub this paste on your counter, stove or any other surface that needs cleaning. Don't worry, it won't scratch the surface.
Step 5
Store the paste in the plastic container with the lid on tight in a cool, dark place.
Tip
Glycerin can be found at your local pharmacy.
You can also pour glycerin directly on a stain to get rid of it. Then just blot up with some water and a white rag.