Lentils are the perfect base to any meal as they are a great source of plant protein, fiber, iron, and several other key nutrients that your body needs. They are super filling and will take on any flavor profile. Properly cooking your lentils can be accomplished in a few easy steps and from there, lentils can be made into a number of yummy recipes that your whole family will love. I promise that you are going to love adding lentils into your weekly meal planning.
Things You'll Need
1 cup of lentils, rinsed and picked over

1 peeled and smashed garlic clove (optional)

1 tablespoon salt

1 teaspoon cracked black pepper

5 cups chicken broth or vegetable broth

1 bay leaf (optional)
Step 1: Add Lentils and Broth
In a large saucepan, add lentils, 4 cups of the broth, salt, pepper, smashed garlic clove, and bay leaf and bring to a boil.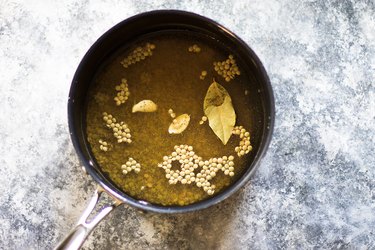 Step 2: Let Simmer
After the liquid comes to a boil, reduce heat and let simmer uncovered for about thirty minutes until lentils are tender.
Step 3: Add Remaining Broth
After the lentils have simmered for about 15 to 20 minutes, you will notice most of the liquid might have evaporated so at this time add the rest of the broth as needed until lentils have cooked through.
Step 4: Serve Immediately
After lentils have cooked though, serve them immediately or freeze for later.
With this basic lentil recipe, you can add a multitude of flavors to switch your lentils up any night of the week. Some of my favorites include adding Italian spices, onion, and carrot for a tasty Italian lentil stew. Another great idea is adding in fresh herbs and marinara to make a meatless marinara sauce for pasta. You can add other beans, chili powder, cumin, and veggies for a vegetarian chili option which is always delicious. I am also a huge fan of using leftover lentils and turning them into veggie burgers by adding an egg, some bread crumbs, and a little seasoning! The options really are endless and any way you eat them, lentils are delicious.
So why not take a break from meat protein every once in a while and add lentils to your grocery list. These winning recipes are satisfying, and super nutritious. I bet everyone in your family (even meat lovers!) will soon become a fan of this alternate protein source.